The Frank Walker Law/PSN Daily Notebook: August 6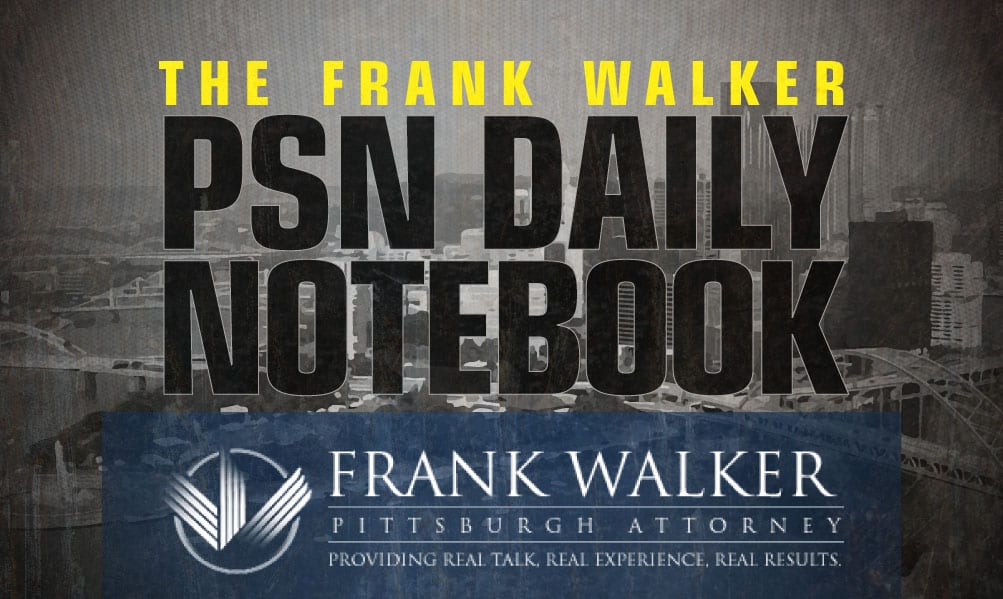 The PSN Daily Notebook is sponsored by Frank Walker, one of Pittsburgh and West Virginia's most respected criminal defense and injury lawyers. Mr. Walker has offices in Pittsburgh and Morgantown and has been named one of Top 100 National Trial Lawyers and is rated a perfect 10.0 Superb by Avvo for ethics, experience and results. To reach Mr. Walker, you can call 412-532-6805 or go to his website frankwalkerlaw.com. For real talk, real experience and real results, contact Frank Walker Law.
AROUND THE NETWORK
Steelers Now: It's preseason, but beating the Cowboys is never a bad thing.
Pittsburgh Hockey Now: Former Penguin Beau Bennett has some stories to tell.
Nittany Sports Now: Interesting look at Penn State's commitments and targets
Pittsburgh Baseball Network: Let's talk about the Pirates draft.
Update (10:05 PM)-
A BUCKET! Salute to my guy, @WilsonFrame #H2P https://t.co/zObE7nv2sb

— Jeff Capel (@jeffcapel) August 7, 2021
Jimbo Covert receives his Pro Football Hall of Fame jacket in Canton! #H2P » @ProFootballHOF
pic.twitter.com/oX5NNsSXgL

— Pitt Football (@Pitt_FB) August 7, 2021
Update (6:22 PM)-
Shoutout to @JohnMorgan6__ for his relentless pursuit today! #WeNotMe #IronSharpensIron #H2P

— Ryan Manalac (@Coach_Manalac) August 6, 2021

Update (5:52 PM)-
Day 1 in the books! Great start. Let's keep building 🧱 🔨 ↗️ #H2P #WEnotME pic.twitter.com/V1NoFErVsv

— Pat Narduzzi (@CoachDuzzPittFB) August 6, 2021
Update (12:50 PM)-
Phenom College Basketball Preview: Duquesne #PhenomHoops

👉 Young players stepping up
👉 Impactful transfers?
👉 Watch out for a few incoming freshmen to make an impact

Preview: https://t.co/Bcj9t0T4iT pic.twitter.com/pTwsFvHE5e

— Patrick O'Brien (@POBScout) August 6, 2021
Update. (8:01 AM)-
With the addition of Jimbo Covert to the Hall of Fame, Pitt is now tied with Miami for the fourth-most Pro Football Hall of Famers.

That number will grow to at least 12 in the next 15 years or so, with Fitz, Revis, and Donald all future Hall of Famers. pic.twitter.com/2ZJzAACQ1f

— Amanda Godsey (@AmandaFGodsey) August 5, 2021