The Frank Walker Law/PSN Daily Notebook: August 7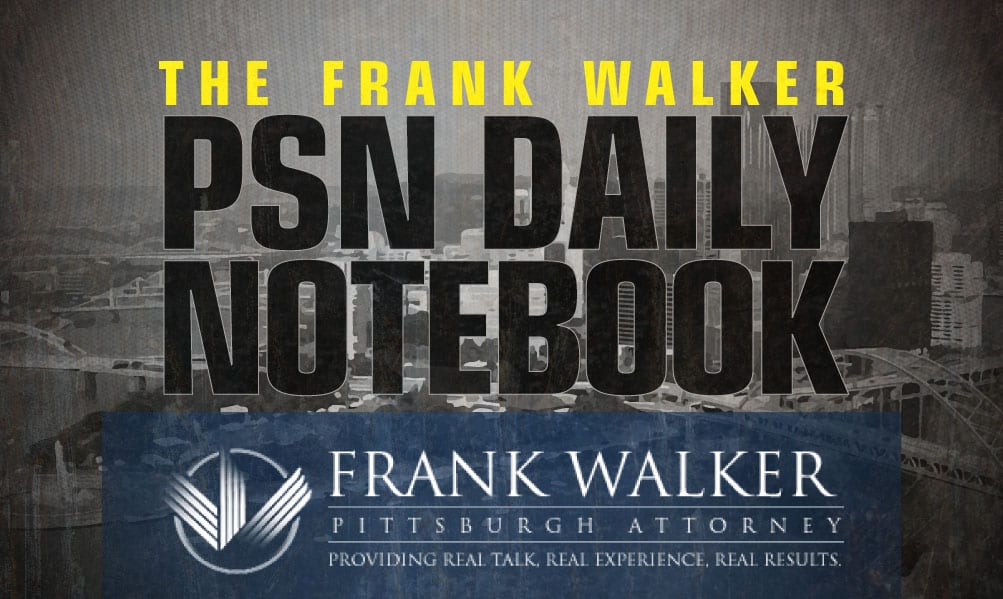 The PSN Daily Notebook is sponsored by Frank Walker, one of Pittsburgh and West Virginia's most respected criminal defense and injury lawyers. Mr. Walker has offices in Pittsburgh and Morgantown and has been named one of Top 100 National Trial Lawyers and is rated a perfect 10.0 Superb by Avvo for ethics, experience and results. To reach Mr. Walker, you can call 412-532-6805 or go to his website frankwalkerlaw.com. For real talk, real experience and real results, contact Frank Walker Law.
Update (7:03 PM)- 
**Interesting offer for a Pitt commit.. 2022 3-star OT Ja'Kavion Nonar (Belle Glade, Florida) picked up an offer this evening from Florida. This becomes his third Power Five offer (Pitt and Maryland). Nonar committed to Pitt back on June 25.
Blessed to receive a offer from the University of Florida #AGTG #rawway pic.twitter.com/5adViyjcK2

— Ja'Kavion "Bugatti" Nonar (@jayno1_) August 7, 2021

Update (1:13 PM)-
Nice cut by Rocco Alfieri of @kirtlandFB . Big tackle by @northrangers Ryan Baer pic.twitter.com/Bm2Y7RFoHv

— News-Herald preps (@NHPreps) August 7, 2021
4⭐️ Pittsburgh commit Ryan Baer was recruited for his incredible talent on the offensive line…

However, you don't want to run into the 6-7, 320 pound figure on defense either…@northrangers @ENRangerfootbal @RyanBaer2003 pic.twitter.com/bZysiPUd07

— N.E.O. Zone HS Sports (@NEOZoneOhio) August 7, 2021
Update (11:26 AM)-
**Congrats to South Fayette baseball player Michael DiMartini for making a commitment today to play at Penn State.
I am extremely honored to announce my commitment to Penn State University! I want to thank God for His guidance and blessings. I would also like to thank all of my coaches, family, and friends for helping me to achieve my goals!#WeAre🦁 @11Hammer11 @USElitebase @SFLionsBaseball pic.twitter.com/5RYo5tB3cF

— Michael DiMartini (@MDiMartini19) August 7, 2021
Update (11:15 AM)-
. @CoachDuzzPittFB won over @RyanBaer2003 with the family atmosphere at Pitt. For instance, when Baer and fam visited Pitt, Narduzzi took Baer's wheelchair-bound sister around campus and to shops while assistants showed Baer the FB facilities and school.https://t.co/qiIPjpAYvn

— John R. Kampf (@JKampf_NH) August 7, 2021
Update (10:51 AM)-
This weekend, Jimbo Covert will be enshrined in Canton as one the greatest players in football history.

He becomes Pitt's 9th member of the Pro Football Hall of Fame, putting the Panthers in elite company as well.#H2P pic.twitter.com/a3wCBeczRR

— Pitt Football (@Pitt_FB) August 6, 2021
Congrats, Jimbo Covert!

From one Pitt legend to another, the one and only @DanMarino gives his congratulations to Covert.#H2P » @ProFootballHOF pic.twitter.com/Ofz4YTcyJ8

— Pitt Football (@Pitt_FB) August 7, 2021
Update (10:38 AM)- 
**The Pitt women's basketball program extends an offer to Ohio 2023 center Riley Rismiller, who also holds offers from Virginia Tech, Purdue, Miami (Ohio), Northern Kentucky, Eastern Kentucky, Cleveland State and Marshall.
Grateful to have received an offer from @Pitt_WBB! Thank you @Pitt_CoachWhite @PITT_CoachP!@OhioElite2023 @CwLadyhoops pic.twitter.com/2WrAWAp0ob

— Riley Rismiller (@RRismiller) August 6, 2021
Check out my sophomore year highlights!
– finished the year averaging 17.7 pts, 10.5 reb, 1.9 blk@OhioElite2023 @LadyCavs_Hoops pic.twitter.com/E9giIcwc9t

— Riley Rismiller (@RRismiller) March 2, 2021