The Frank Walker Law/PSN Daily Notebook: September 2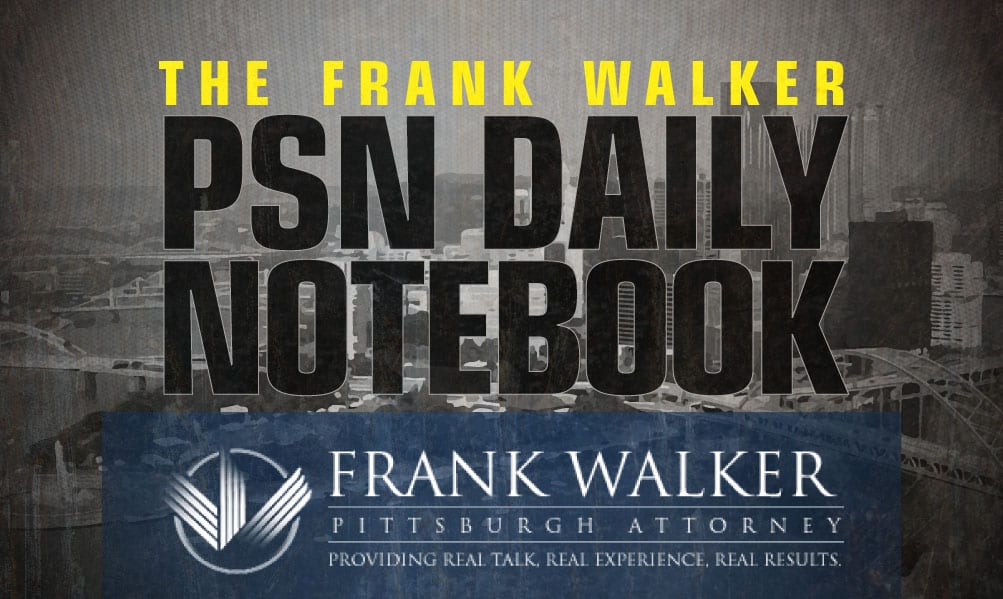 The PSN Daily Notebook is sponsored by Frank Walker, one of Pittsburgh and West Virginia's most respected criminal defense and injury lawyers. Mr. Walker has offices in Pittsburgh and Morgantown and has been named one of Top 100 National Trial Lawyers and is rated a perfect 10.0 Superb by Avvo for ethics, experience and results. To reach Mr. Walker, you can call 412-532-6805 or go to his website frankwalkerlaw.com. For real talk, real experience and real results, contact Frank Walker Law.
Update (9:03 PM)-
𝗙𝗜𝗡𝗔𝗟 | No. 2️⃣0️⃣ Pitt 3, St. Joes 0

Pittsburgh sports team beats one from Philly, that never gets old 😄#H2P pic.twitter.com/PsojA3Xe01

— Pitt Women's Soccer (@Pitt_WSOC) September 3, 2021
Update (7:22 PM)- 
**Cory Sanders and Pitt extend an offer tonight to 2024 DL Jahsear Whittington from Imhotep Charter School in Philadelphia. Whittington also holds offers from Penn State, Ole Miss and Temple.
Update (5:56 PM)-
Falcons Sign RB Wayne Gallman, Waive RB Qadree Ollison https://t.co/2imYorSmm3 pic.twitter.com/oKJzYa2rqt

— NFLTradeRumors.co (@nfltrade_rumors) September 2, 2021
Update (3:57 PM)-
Players and coaches of the Westinghouse football team will need to quarantine until September 8th after a team member tested positive for COVID-19 and Friday's game with Kirtland High School is canceled #WTAE pic.twitter.com/PBtzC0Ibdo

— Andrew Stockey (@astockeyWTAE) September 2, 2021
Update (12:20 PM)-
Just in: Central Valley Athletics tells the Beaver County Times that it has move its matchup against Blackhawk, which was originally scheduled for 9/17, to this Friday. The game will take place following Hopewell & Beaver having to cancel their games.

— Noah Hiles (@_NoahHiles) September 2, 2021

Update (11:38 AM)-
**This morning, Tim Salem extends an offer to 2023 3-star cornerback Braeden Marshall from Lake Mary High School in Lake Mary, Florida. Marshall (5'11", 180) also holds an offer from Florida Atlantic, so this was his first Power Five offer.
Crib Talk🙅🏽‍♂️. pic.twitter.com/btLxCQYEpV

— Braeden Marshall (@MarshallBraeden) August 28, 2021
Update (11:10 AM)-
**Former Pitt tight end Nakia Griffin-Stewart is placed on the NY Giants practice squad.
Giants Placed WR John Ross & OLB Elerson Smith On IR, Signed 13 To PS https://t.co/Q5N3WJTe7z #Giants pic.twitter.com/cQfc4JLtym

— NFLTradeRumors.co (@nfltrade_rumors) September 2, 2021

Update (10:21 AM)-
#NFL QBs won't be! 💪🏻💪🏻 https://t.co/jbAMTuafCL

— Harry G. Psaros (@PittGuru) September 2, 2021
Update (9:42 AM)-
**Pitt extends an offer to 2023 wide receiver Tyler Williams from Lakeland High School in Winter Haven, Florida. Williams (6'5″, 190) received his first D-1 offers yesterday from Georgia Tech.
Update (8:12 AM)-
**Pitt extends an offer to 2023 3-star offensive tackle Roderick Kearney from Orange Park, Florida. Kearney (6'4″, 275) holds an offer list that includes Florida, Florida State, Kentucky, Georgia Tech, Miami, Ole Miss, Oregon, Central Florida and West Virginia.
Pancake platters🥞 @CoachLecht @OU_CoachB @KUCoachZ @coach_cristobal @CoachFuchs @CoachTeasley @CoachMooreWVU @CoachHering @CoachGusMalzahn @CoachAAtkins @Vol_Football @ClayTodaySports @CoachMac8740 @CoachMattPearce @CoachJeffQuinn @CoachG_Adkins https://t.co/6GoVmt7JST

— BIGROD (@RoderickKearne5) August 30, 2021
Around the Network
Steelers Now: Did T.J. Watt hint at a contract extension?
Pittsburgh Hockey Now: PHN Debate: Should the Penguins trade Pettersson?
Pittsburgh Baseball Now: Max Kranick's one mistake costs the Pirates a victory Wednesday
WVU Sports Now: Big 12 commissioner Bob Bowlsby releases statement
Nittany Sports Now: PSU football busy at work with recruits for 2023
Pittsburgh Soccer Now: Riverhounds win a nail bitter 1-0 against Red Bulls II