Oak Hill Schedule: When and Where to See Pitt Commit Judah Mintz Play This Year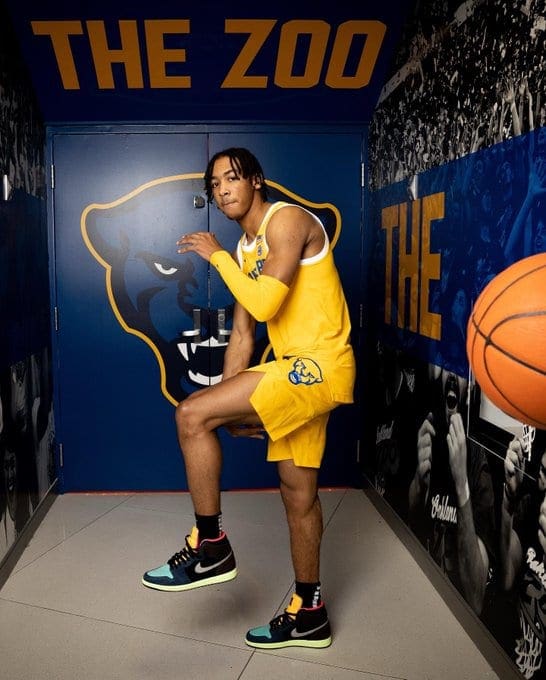 Year in and year out, Oak Hill is one of the best high school basketball programs in America. Led by legendary head coach Steve Smith, the Warriors travel all around the nation showing off five-star talent each year.
This year, Pitt fans will have plenty of opportunities to watch Oak Hill, the team that includes Pitt's lone commit Judah Mintz, all around the nation.
Oak Hill's complete 2021-22 schedule is below.
*MOW = Mouth of Wilson, Virginia. Games labeled MOW are at Oak Hill.
| | | | |
| --- | --- | --- | --- |
| Date | Opponent | Site | Time |
| Oct. 12 | Massanuttan (Scrimmage) | Roanoke, VA [Patrick Henry HS] | 6:30 |
| Oct. 15-17 | Geico Top-Flight Invite | Las Vegas, NV | TBA |
| Oct. 24 | Blue Ridge School (Scrimmage) | Floyd, VA | 2:00 |
| Oct. 29 | The Steward Academy | MOW, VA | 6:30 |
| Oct. 30 | Bristol Prep | MOW, VA | 2:00 |
| Nov. 5 | Spire Academy | MOW, VA | 6:30 |
| Nov. 6 | Ridgeview Prep | MOW, VA | 3:00 |
| Nov. 9 | Winston-Salem Christian | MOW, VA | 6:30 |
| Nov. 10 | Minnesota Prep | MOW, VA | 6:30 |
| | | | |
| --- | --- | --- | --- |
| Nov. 12 | Olympus Prep | MOW, VA | 6:30 |
| Nov. 13 | Greensboro Day | TBA, NC | TBA |
| Nov. 15 | Aim High | MOW, VA | 6:30 |
| Nov. 16 | Providence Academy | Johnson City, TN | 7:00 |
| Nov. 17 | Vision Academy | MOW, VA | 6:30 |
| Dec. 2 | Montverde Academy | Montverde, FL | TBA |
| Dec. 3 | Sunrise Christian | Montverde, FL | TBA |
| Dec. 4 | IMG Academy | Montverde, FL | TBA |
| Dec. 7 | Providence Academy | MOW, VA | 6:30 |
| Dec. 10 | Legacy Charter | Phoenix, AZ | TBA |
| | | | |
| --- | --- | --- | --- |
| Dec. 11 | TBA | Phoenix, AZ | TBA |
| Dec. 17-22 | City of Palms Invitational (Four Games) | Ft. Myers, FL | TBA |
| Jan. 6 | La Lumiere | TBA | TBA |
| Jan. 7 | Bishop Walsh | TBA | TBA |
| Jan. 8 | Wasatch HS | TBA | TBA |
| Jan. 15-17 | Hoophall Classic (3 games) | Springfield, MA | TBA |
| Jan. 19 | Franklin Prep | MOW, VA | 6:30 |
| Jan. 21 | Burlington School | MOW, VA | 6:30 |
| Jan. 22 | Quality Education Academy | MOW, VA | 3:30 |
| Jan. 26 | Bull City Prep | MOW, VA | 7:30 |
| | | | |
| --- | --- | --- | --- |
| Jan. 28 | St. Petersburg HS | Tampa, FL | 8:00 |
| Jan. 29 | Orlando Christian Prep | Tampa, FL | 2:30 |
| Feb. 3 | Legacy Charter | TBA, NJ | TBA |
| Feb. 4 | Wasatch HS | TBA, NJ | TBA |
| Feb. 5 | TBA | TBA, NJ | TBA |
| Feb. 11 | Rock Creek Christian | MOW, VA | 6:30 |
| Feb. 12 | University School (TN) | MOW, VA | 3:30 |
| Feb. 15 | Liberty Heights | MOW, VA | 6:30 |
| Feb. 18 | Top Flight Academy | MOW, VA | 6:30 |
| Feb. 19 | Virginia Episcopal School | MOW, VA | 4:30 |
| | | | |
| --- | --- | --- | --- |
| Feb. 25 | Tidewater Prep | MOW, VA | 6:00 |
| Feb. 26 | The Steward Academy | MOW, VA | 7:00 |
| March, TBA | NIBC Tournament | TBA | TBA |
| April, TBA | Geico Nationals | TBA | TBA |