The Frank Walker Law/PSN Daily Notebook: November 3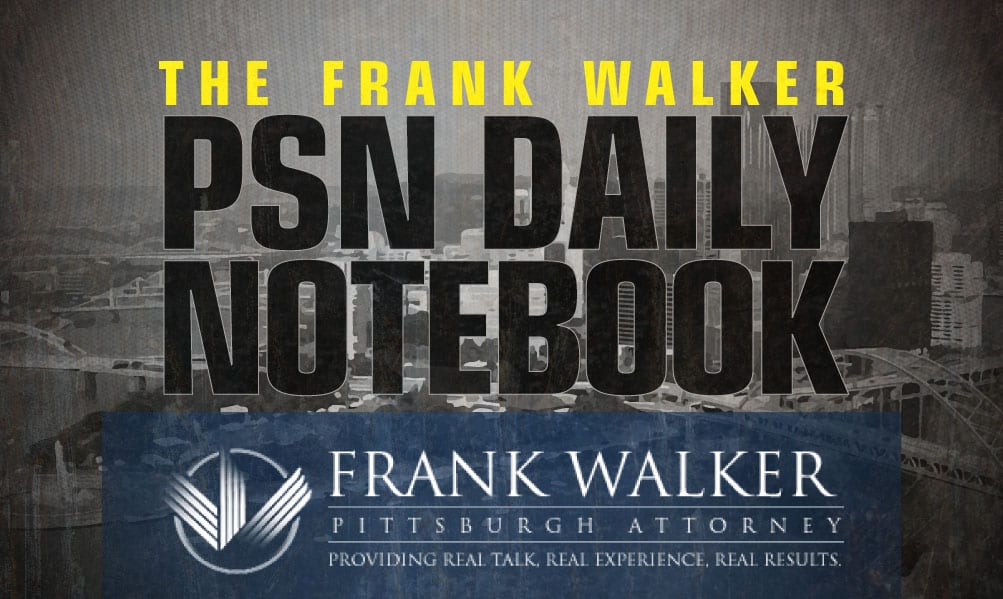 The PSN Daily Notebook is sponsored by Frank Walker, one of Pittsburgh and West Virginia's most respected criminal defense and injury lawyers. Mr. Walker has offices in Pittsburgh and Morgantown and has been named one of Top 100 National Trial Lawyers and is rated a perfect 10.0 Superb by Avvo for ethics, experience and results. To reach Mr. Walker, you can call 412-532-6805 or go to his website frankwalkerlaw.com. For real talk, real experience and real results, contact Frank Walker Law.
Update (6:27 PM)-
We're getting the 𝗚𝗥𝗔𝗡𝗗 𝗥𝗘𝗢𝗣𝗘𝗡𝗜𝗡𝗚 𝟮.𝟬 festivities started early!

In honor of our 106th season, for the next 2⃣4⃣ hours only, tickets to our home opener are $𝟭𝟬.𝟲𝟬*!

🎟️: https://t.co/VaC8MB5UQ6
🚨 PROMO CODE: DUKES106 🚨

*Select locations only pic.twitter.com/wEjypu0Awm

— Duquesne Basketball (@DuqMBB) November 3, 2021

Update (5:27 PM)- 
**Central Valley 2022 running back Landon Alexander made an unofficial visit last night to watch Toledo as they took on Eastern Michigan.
Had a great time at Toledo last night! Thank you! @Tswan_2 @RickyCicconeUT @CoachNCole pic.twitter.com/rbByGM1qLJ

— Landon Alexander (@lalexander_) November 3, 2021
Update (5:20 PM)-
**Pitt football extends an offer today to 2023 3-star wide receiver Beni Ngoyi (6'4″, 180) from Lincoln, Nebraska. This is Ngoyi's second Power Five offer (Kansas) and he received the news from Brennan Marion. Ngoyi's is an interesting prospect considering his size and the fact that he has a 6'10" wingspan and runs a 4.3.
Check Out My Junior Szn Highlights | 6'4 185 wr/db | 6'10 wingspan | 40 inch vert | 4.38 40yd | 10ft 10in broad jump https://t.co/Ytcpw2zMdj

— 𝐵𝑒𝓃𝒾 𝒩𝑔𝑜𝓎𝒾 📍 (@beni_ngoyi) October 26, 2021
Update (4:47 PM)-
We have signed free agent LB Marquel Lee.

We have signed QB Nathan Peterman and WR Marcell Ateman to the practice squad.

We have released T Dan Skipper from the practice squad. pic.twitter.com/AxNahEpOH5

— Las Vegas Raiders (@Raiders) November 3, 2021
Update (12:57 PM)-
The whole team and @duq_thecrew are working together to make sure that Tuesday's game is rocking! Follow their page and stay tuned to our instagrams for more details on how we're working on packing the Coop! https://t.co/iNegSxcUn6

— Andy Barba (@andybarba5) November 3, 2021
Update (11:25 AM)-
CFP Chair Gary Barta, in defending leaving UTSA out of the Top 25, said that Pitt's superior quality of competition was the deciding factor in ranking the Panthers. pic.twitter.com/CNjwGh99Yx

— Alan Saunders (@ASaunders_PGH) November 3, 2021

Update (10:23 AM)- 
**Brashear athlete Daquan Griffin announces that he's moving to Maryland and will reclassify to the Class of 2023.
Pittsburgh To Maryland '23🛩📍. @TrevonDiggs @210ths @_Drew_55 @Avalon_Football @TyreeSpinner @Evolve2tenths @Cover3_ATH @CoachHock4 @BrianDohn247 @VeeBuccilli @PghSportsNow pic.twitter.com/HJdoCs3erJ

— DAQUAN GRIFFIN (@DaquanGriffin_1) November 3, 2021
Update (10:15 AM)-
*For the third time in the last 48 hours, the Pitt football program has extended an offer to a player from Maryland. This one goes to 2023 defensive lineman Devan Houstan from St. James School in Hagerstown, Maryland. Houstan (6'5″, 270) received the news from Andre Powell and also holds other offers from Maryland, Notre Dame, Penn State, Wake Forest and Central Michigan.