The Frank Walker Law/PSN Daily Notebook- February 10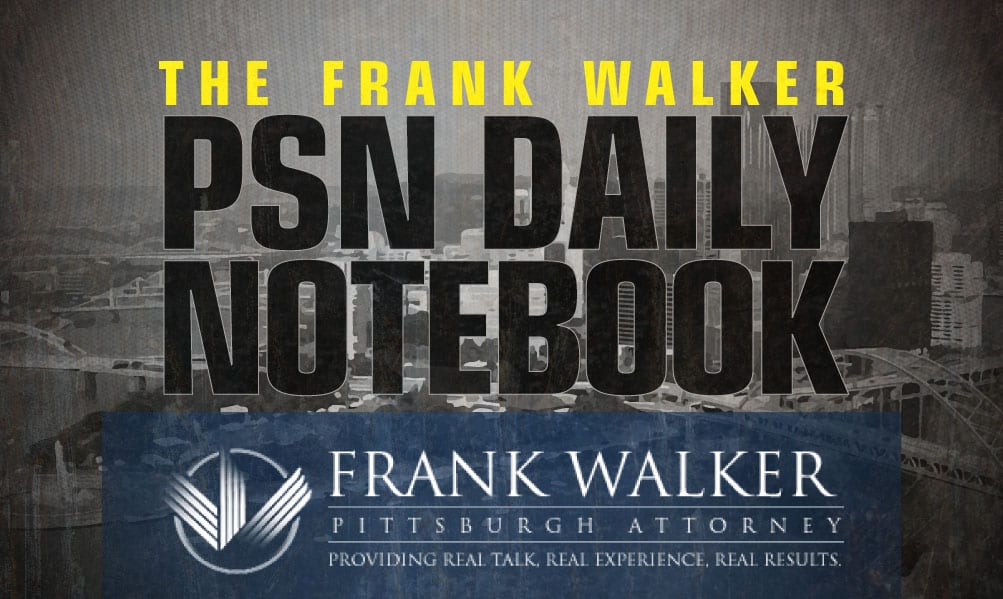 The PSN Daily Notebook is sponsored by Frank Walker, one of Pittsburgh and West Virginia's most respected criminal defense and injury lawyers. Mr. Walker has offices in Pittsburgh and Morgantown and has been named one of Top 100 National Trial Lawyers and is rated a perfect 10.0 Superb by Avvo for ethics, experience and results. To reach Mr. Walker, you can call 412-532-6805 or go to his website frankwalkerlaw.com. For real talk, real experience and real results, contact Frank Walker Law.
Update (5:26 PM)- 
**Beaver Falls 2022 TE/LB Tyler Cain signs today to play for Navy.
Best senior season highlight
6'3 220
Tight End Linebacker
All conference Tight End and Linebacker
Led team in tackles
Recruitment 100% open

— tyler cain (@tylercain08) December 1, 2021
100% Committed let's go ⚓️⚓️⚓️ @PJVolker @JMacDonald_Navy @NavyCoachYo pic.twitter.com/uQ1zAKVIdh

— tyler cain (@tylercain08) February 10, 2022

Update (5:15 PM)-
The Best Team in Pennsylvania ✅

Coach Pat Narduzzi took Pitt's 2021 ACC Championship trophy to Harrisburg this week to visit state leaders.#H2P 🏈 pic.twitter.com/Dh9E1cNbrH

— Pitt Football (@Pitt_FB) February 10, 2022
Update (5:10 PM)-
**Thomas Jefferson 2023 3-star defensive end Jordan Mayer picks up an offer today from Ohio U. Mayer holds offers from Akron, Boston College, Bowling Green, Central Michigan, Duke, Miami (Ohio) and West Virginia.
Update (12:17 PM)-
**Pitt extends an offer today to 2023 defensive lineman DeeJay Holmes, Jr. from Pahokee High School in Pahokee, Florida. Holmes holds offers from Central Florida, Coastal Carolina, Boston College, Florida Atlantic, Indiana and Western Kentucky.
https://t.co/HkIFpmAlLG
junior szn up now , year IV next..

— DeeJay Holmes Jr. (@deejayholmesjr) December 8, 2021
Update (12:05 PM)-
Congrats on the win, @Pitt_MBB 🏀

Excited to announce that members of Pitt's 2021 ACC Championship football team will be honored during Saturday's men's basketball game against NC State at 3 p.m.

Join us at the Petersen Events Center!

🎟️: https://t.co/ArE4r43z81#H2P pic.twitter.com/dWtbYBIeZU

— Pitt Football (@Pitt_FB) February 10, 2022
Update (12:02 PM)-
Highlights from last night's @Pitt_MBB win! 🎥#H2P pic.twitter.com/SuBHqo1USx

— Pitt Panthers (@Pitt_ATHLETICS) February 10, 2022
Update (11:51 AM)-
**Steven Curtis is a 2023 defensive end from Cardinal Newman High School in West Palm Beach, Florida. Curtis visited Pitt in January and the Panthers were his first D-1 offer.
💙💛 @CoachTimSalem pic.twitter.com/58B10ZCdLs

— Steven Curtis (@stev_curtis) February 10, 2022