The Frank Walker Law/PSN Daily Notebook- June 6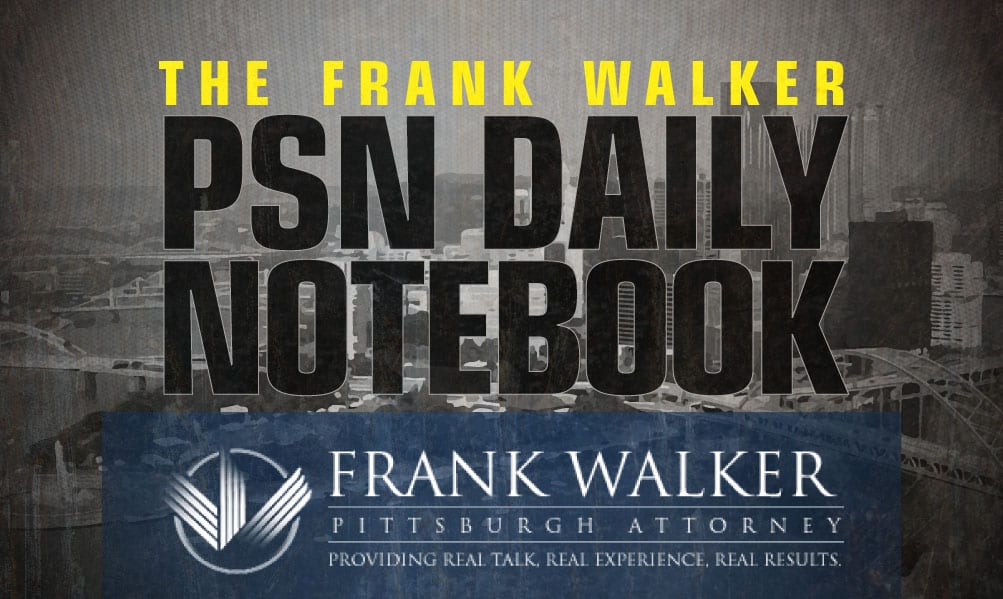 The PSN Daily Notebook is sponsored by Frank Walker, one of Pittsburgh and West Virginia's most respected criminal defense and injury lawyers. Mr. Walker has offices in Pittsburgh and Morgantown and has been named one of Top 100 National Trial Lawyers and is rated a perfect 10.0 Superb by Avvo for ethics, experience and results. To reach Mr. Walker, you can call 412-532-6805 or go to his website frankwalkerlaw.com. For real talk, real experience and real results, contact Frank Walker Law.
Update (9:26 PM)-
**After working out at the Pitt prospects camp this weekend, the Pitt coaches extend an offer tonight to 2023 3-star offensive lineman Phillip Daniels from Cincinnati, Ohio. Daniels (6'5″, 285-pounds) also holds offers from Minnesota, Purdue, Akron, Ball State, Bowling Green, Buffalo, UConn, Eastern Michigan, Kent State, Kentucky, Marshall, Miami (OH), Ohio and Toledo.
Update (3:03 PM)- 
**Archie Collins and Pitt extend an offer to 2025 defensive lineman Brandon Caesar from Cleveland, Ohio. Caesar (6'4", 235) has also received offers from Penn State, Kentucky and UMass.
Check out my highlight – https://t.co/vu0BmXXWIl

— Brandon Caesar (@Caesar2025) January 20, 2022

Update (11:43 AM)-
Pittsburgh transfer DL Emmanuel Belgrave committed to Tennessee-Martin https://t.co/pxNazdJQ4n

— FarrellPortal (@farrellportal) June 6, 2022
Update (8:08 AM)-
**On Sunday, Tim Salem and Pitt extended an offer to 2025 offensive tackle Rowan Byrne from New Rochelle, New York. Byrne holds other offers from Syracuse, Rutgers and UConn.
Check out my highlight – https://t.co/r0gGhF7dSi

— Rowan Byrne (@RowanByrne6) November 20, 2021
Update (7:56 AM)-
**Pitt received a visit on Sunday from 2025 quarterback George MacIntyre (Brentwood, Tennessee). Pitt was MacIntyre's first D-1 offer and also holds offers from Toledo and Florida International.
Freshman Year Football Highlights!- https://t.co/EDqPbl7GMP

— George MacIntyre (@GeorgeMacIntyr6) November 21, 2021
AROUND THE NETWORK
Minkah Fitzpatrick Ranked Too Low Among 25 & Under NFL Players
The Young Bucs Get it Done: Pirates Beat Diamondbacks 3-0, Steal Series
Farrell's Favorites: Teams With Quality Over Quantity Transfers