The Frank Walker Law/PSN Daily Notebook- July 7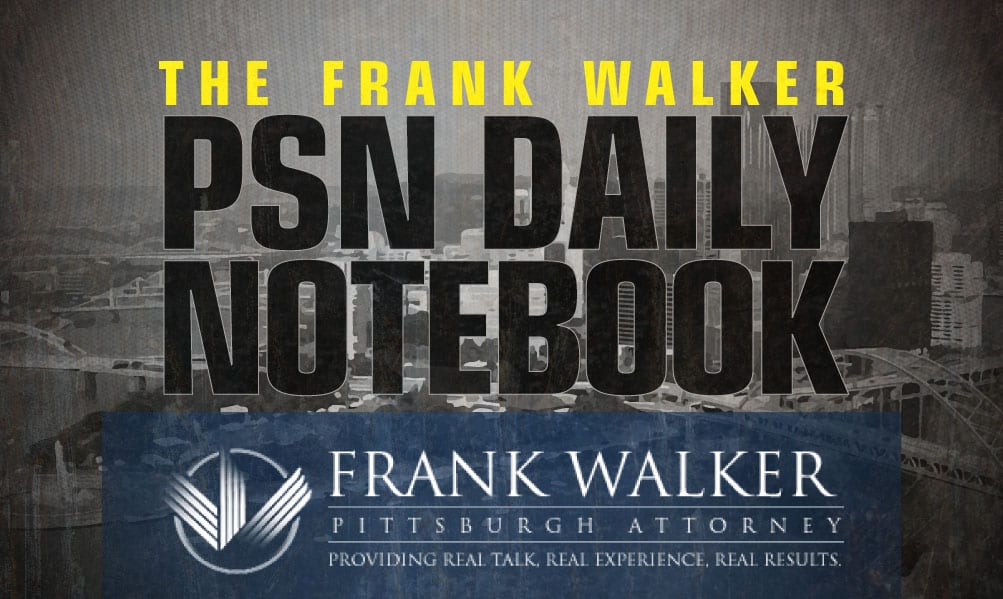 The PSN Daily Notebook is sponsored by Frank Walker, one of Pittsburgh and West Virginia's most respected criminal defense and injury lawyers. Mr. Walker has offices in Pittsburgh and Morgantown and has been named one of Top 100 National Trial Lawyers and is rated a perfect 10.0 Superb by Avvo for ethics, experience and results. To reach Mr. Walker, you can call 412-532-6805 or go to his website frankwalkerlaw.com. For real talk, real experience and real results, contact Frank Walker Law.
Update (9:15 PM)-
Capel is out watching two big-time young prospects. https://t.co/ZeJ9q5STmP

— George Michalowski (@MichalowskiCBB) July 7, 2022

Update (3:02 PM)-
All Ohio vs NY Rens

Ohio State HC
Duke HC
Michigan HC
Maryland HC
Michigan State HC
Seton Hall HC
Pitt HC
Marquette HC
Iowa
Northwestern
Rhode Island
St John's
Cincinnati
Penn State
Fresno State
Virginia Tech pic.twitter.com/4loxyZYcoq

— Endless Motor Sports (@endless_motor) July 7, 2022
Update (2:33 PM)-
4 ⭐️ G Kyle Greene has received an offer from #Pitt.

2024 Recruiting Board on @PghSportsNow:
– 36 players on the board
– 10 offers out (7 Guards, 1 Wing, 2 Forwards)

Full Board: https://t.co/9YRvQyAJTM pic.twitter.com/383KOK6zoz

— George Michalowski (@MichalowskiCBB) July 7, 2022
Update (10:32 AM)-
Welcome to the squad, Julia‼️

The Florida native joins the team from Yale and adds depth to the pitching rotation 🥎#H2P | ✍️ – https://t.co/cSQ5a7yoXK pic.twitter.com/SqNGKLNUz2

— Pitt Softball (@Pitt_SB) July 7, 2022
Update (8:36 AM)-
**Coaches from both Pitt and Duquesne were out recruiting on Wednesday as Jamie Shaw has some details.
The storylines you need to know from Day 1 UAA Circuit's Session 3

READ | https://t.co/RpWAggRKhA pic.twitter.com/SD1UvRbjJf

— Jamie Shaw (@JamieShaw5) July 7, 2022
Update (8:32 AM)-
LISTEN LIVE: https://t.co/4PSbEVqKdS pic.twitter.com/j6x1BBOJPw

— The Fan Morning Show (@FanMorningShow) July 7, 2022
Update (8:26 AM)-
#THIS 👇🏻 👇🏻 https://t.co/Jx1FmZHn98

— Harry G. Psaros (@PittGuru) July 7, 2022
Update (8:24 AM)-
#Pitt's Jared Wayne (The Pride of Canada 🇨🇦) is well established as one of the top wide receivers in the #ACC (and nation). Bradley is next in line for the Panthers. Played with chest thumping confidence as a freshman. #PittGoodHandsClub 🔵🟡 https://t.co/XpD6Qitjlm

— Harry G. Psaros (@PittGuru) July 7, 2022
Around the Network
Steelers Now: T.J. Watt Sure-Fire Pick for Steelers 2022 MVP
Pittsburgh Hockey Now: Dana Heinze, Penguins' longtime equipment manager, retires
Pittsburgh Baseball Now: Pirates Melt Down in the Late Innings, Lose 16-0 to Yankees
WVU Sports Now: West Virginia Announces Game Promotions; Which One Excites You Most?
Nittany Sports Now: CRYSTAL BALL PROJECTS 2023 FOUR-STAR OFFENSIVE LINEMAN EVAN LINK TO PENN STATE
Pittsburgh Soccer Now: Takeaways & Player Grades: Cicerone-Dixon combo pull Hounds out of funk