The Frank Walker Law/PSN Daily Notebook- October 17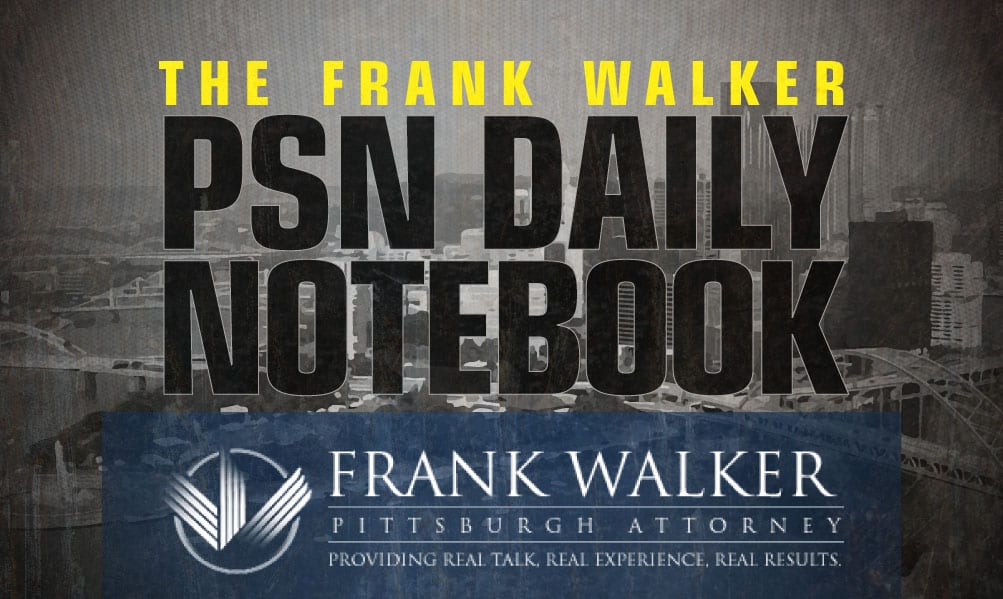 The PSN Daily Notebook is sponsored by Frank Walker, one of Pittsburgh and West Virginia's most respected criminal defense and injury lawyers. Mr. Walker has offices in Pittsburgh and Morgantown and has been named one of Top 100 National Trial Lawyers and is rated a perfect 10.0 Superb by Avvo for ethics, experience and results. To reach Mr. Walker, you can call 412-532-6805 or go to his website frankwalkerlaw.com. For real talk, real experience and real results, contact Frank Walker Law.
Update (5:10 PM)-
Good luck, Cole Matthews! 👏

Pittsburgh, PA 🇺🇸
✈️ 🚌 🚙 🚃
Pontevedra, Spain 🇪🇸

Pitt's All-American is going global at the 2022 U23 World Championships! @ColeMatthews9 is slated to compete on Friday and Saturday at 65 kg.#H2P » @USAWrestling pic.twitter.com/KPzStsr3tV

— Pitt Wrestling (@Pitt_WRES) October 17, 2022
Update (4:03 PM)-
That's another #ACCVB Player of the Week award for Courtney Buzzerio!

— Pitt Volleyball (@Pitt_VB) October 17, 2022
Update (1:38 PM)-
**Another offer from Pitt to a highly rated player in the DMV as Andre Powell extends offer to 2024 4-star defensive end Makai Byerson from Manchester High School in Midlothian, Virginia. Byerson (6'4″, 235) holds other offers from West Virginia, Virginia Tech, Tennessee, Rutgers, Duke, Kentucky, Boston College, Virginia, Maryland, Marshall and Liberty.
https://t.co/36YczCrz83 Year 3 Mid-Season Film (Year of 8) pic.twitter.com/wAE8TjbUS3

— Makai Byerson (@Showtimekai) October 6, 2022
Update (1:24 PM)-
**Pitt has extended another offer to a player from Maryland. Andre Powell extended an offer to 2024 4-star outside linebacker Jaylen Harvey from North Potomac, Maryland. Harvey (6'2″, 225) is ranked by Rivals as one of the Top 10 junior linebackers in the country and one of the Top 200 overall players. Along with Pitt, Harvey holds other offers from Boston College, Duke, Kentucky, Louisville, Maryland, Michigan, Northwestern, Notre Dame, Ohio State, Oklahoma, Penn State, Tennessee, USC, Vanderbilt, Virginia Tech and West Virginia.
🔏@JaylenHarvey_ 4⭐️ 2024 #15 Edge in the nation Jaylen Harvey from Quince Orchard HS, Gaithersburg MD, is locked in & ready to roll🦾🫡 pic.twitter.com/xF5i2eTtHb

— CaliforniaPowerAthletes (@CaliPowerATHs) October 12, 2022
Update (1:21 PM)-
TOMORROW. 8PM. The Pete.🔥🔥🔥
OPEN TO ALL PITT STUDENTS‼️ Come to our '22-'23 GBM and we'll give you everything you need to know for this season with a side of free pizza, giveaways, and special guests🔥 pic.twitter.com/5N0zCjlHMh

— Oakland Zoo (@OaklandZoo) October 17, 2022
Update (1:04 PM)-
3 SEC teams in @CFBPlayoff? So you're telling me there's a chance? My updated bowl projections for @ActionNetworkHQ include Illinois-LSU (Citrus), Notre Dame-Florida (Gator), Kansas State-Utah (Alamo), UNC-USC (Holiday), BYU-Michigan State (Frisco) https://t.co/WJFaIv3RFd pic.twitter.com/q4FzNyyPNB

— Brett McMurphy (@Brett_McMurphy) October 17, 2022
Update (1:02 PM)-
Thanksgiving is quickly approaching. Help me tackle hunger in Pittsburgh by donating to the @nsfoodpantry by scanning the QR or visiting https://t.co/o06mORpka1.
Every dollar makes a difference. pic.twitter.com/IfnrffdP1x

— Calijah Kancey (@Ckancey8) October 17, 2022
Update (12:18 PM)-
🔥🔥 Updated Power Rankings 🔥🔥 pic.twitter.com/SpEDnpgPUc

— WPIAL Sportsmen (@wpialsportsnews) October 16, 2022
Update (12:09 PM)-
I'm told Kentucky Head Coach John Calipari will be in to see '25 Imani Christian (PA) F Alier Maluk today. #BBN pic.twitter.com/tuvEPHzsyL

— THE MILLER REPORT ™️ (@Miller_Report) October 17, 2022
Update (12:05 PM)-
College football Week 8 bowl projections: Tennessee, Georgia and the new two-SEC team playoff https://t.co/X0GqohkdFT

— Bill Bender (@BillBender92) October 17, 2022
Update (11:56 AM)-
🔥🔥Week 8 Top Performers 🔥🔥@BrookinsCruce @xavier_nelsonn @CadinOlsen @BraylanLovelace @JahmilPerryman pic.twitter.com/kzFCEgHc4N

— WPIAL Sportsmen (@wpialsportsnews) October 16, 2022
Update (11:47 AM)-
**Robert Morris basketball extends an offer to 2024 point guard Damon Thompson, Jr. from John Marshall High School in Richmond, Virginia. Thompson (6'0″, 165) holds other offers from Mount St Mary's, Jacksonville, Hofstra, College of Charleston, NJIT and George Washington.
DC LIVE RECAP / June 17–19
Damon "Redd" Thompson Jr#TheOne pic.twitter.com/vt1VdMRyxF

— Damon "Redd" Thompson Jr – The One (@redd1k_drt) June 29, 2022
Update (11:14 AM)-
**Congratulations to former Pitt star defensive end Patrick Jones as he recorded his first two career NFL sacks.
Patrick Jones II gets his second 👏@P_jones9 has his first two @NFL sacks today for the @Vikings 💪#H2P 📺 @NFLonFOX pic.twitter.com/KBubL9BXMk

— Pitt Football (@Pitt_FB) October 16, 2022
.@p_jones9 stepped up big today, notching the first two sacks of his NFL career.@GabeAHenderson caught up with him after today's win. pic.twitter.com/u4UaYn2N4R

— Minnesota Vikings (@Vikings) October 17, 2022