The Frank Walker Law/PSN Daily Notebook- November 16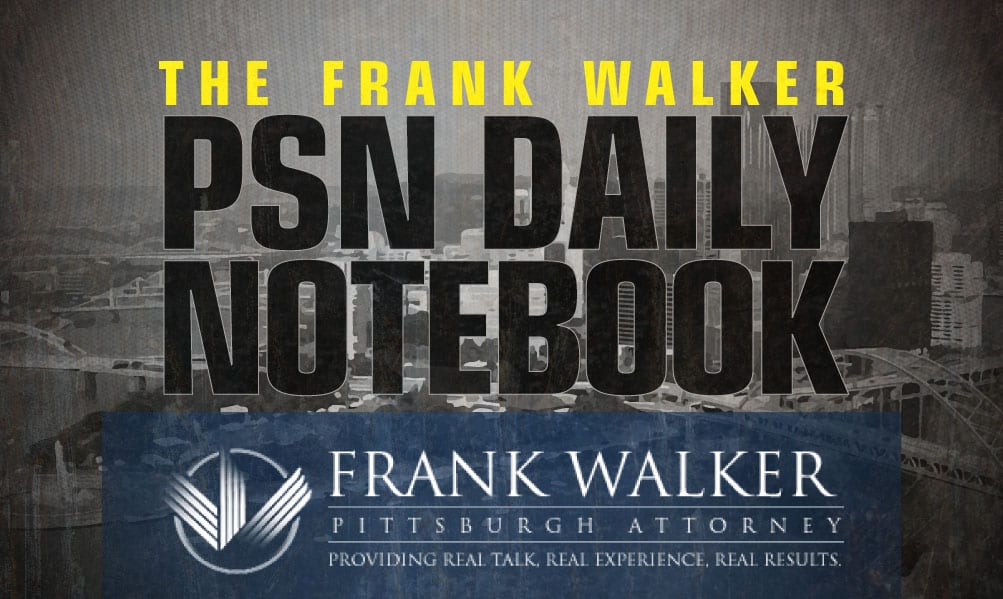 The PSN Daily Notebook is sponsored by Frank Walker, one of Pittsburgh and West Virginia's most respected criminal defense and injury lawyers. Mr. Walker has offices in Pittsburgh and Morgantown and has been named one of Top 100 National Trial Lawyers and is rated a perfect 10.0 Superb by Avvo for ethics, experience and results. To reach Mr. Walker, you can call 412-532-6805 or go to his website frankwalkerlaw.com. For real talk, real experience and real results, contact Frank Walker Law.
Update (5:46 PM)-
TOP COACH

Congratulations to @Paul_Tortorella for being named PSAC West Coach of the Year! 🐐

#ALLIN22 | #TalonsUp pic.twitter.com/DdrsH3ZkGS

— IUP Football (@IUPfootball) November 16, 2022
Update (4:43 PM)-
**2024 4-star defensive back Braydon Lee from Flowers High School in Springdale, Maryland has put Pitt in his Top 10. Rivals.com rates Lee as one of the Top 10 junior cornerbacks and one of the Top 100 overall players in the Class of 2024. Lee's Top 10 consists of Pitt, Alabama, Maryland, North Carolina, Tennessee, Notre Dame, Georgia, South Carolina, Penn State and Ohio State.
Junior Mid Season 💥 https://t.co/pJ0tfeYNit pic.twitter.com/CCncoAPPGV

— Braydon Lee (@_brayofficial) October 24, 2022
Update (4:34 PM)-
What a week for the former Pitt men 💪🏽

Proud is an understatement‼️#H2P #WEnotME #PanthersInThePros pic.twitter.com/G3Kj4z67YW

— Pat Narduzzi (@CoachDuzzPittFB) November 16, 2022
Update (11:45 AM)-
**Congrats to Peters Township 2025 6'1″ forward Natalie Wetzel for receiving an offer last night from George Mason. Wetzel, who's also a member of the WPA Bruins AAU program, holds other offers from Davidson and Kent State.
Welcome to #BruinsNation 2025 Natalie Wetzel (@NatalieWetzel00 )‼️

Natalie, a multi-faceted 6-1 forward, from Peters Township, is already on the radar of several P5 schools.#BruinsNation #WhoDoYouPlayFor pic.twitter.com/su5eI998Ou

— WPABruinsAAU (@WPABruinsAAU) September 21, 2022
Update (11:42 AM)-
No Field Pass this week.

Sending strength and love to everyone at the University of Virginia. pic.twitter.com/Sphsar4gDc

— Pitt Football (@Pitt_FB) November 16, 2022
Update (11:08 AM)-
**A couple of players from Imani Christian picked up offers last night from Toledo. Freshman defensive back/running back David Davis and sophomore athlete Dayshaun Burnett received the offers while making an unofficial visit to last night's game against Bowling Green. Davis holds other offers from Pitt, Penn State and Akron, while Burnett has received ones from Pitt, Penn State, West Virginia, Akron and UMass.