How Would Pat Narduzzi Describe the River City Rivalry? 'I Don't Know'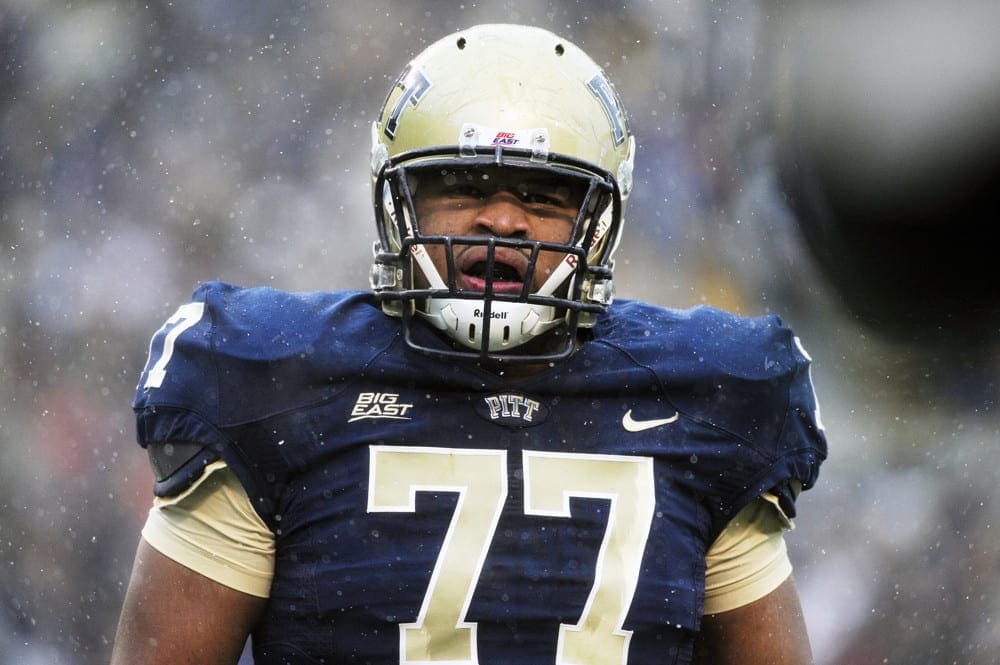 Pat Narduzzi hasn't had much success in River City Rivalry to this point, but to be fair, he also hasn't approached it from the Pitt side either.
He spent two seasons on the losing side of the rivalry in the mid-2000s while serving as Mark Dantonio's defensive coordinator at Cincinnati, but with the series renewing for the first time over a decade, he's not particularly worried about the rivalry aspect.
"It's an old rivalry," Narduzzi said Monday at the UPMC Rooney Sports Complex. "I don't know. It's a rivalry, I guess, I don't know — or at least used to be when we were in the same conference. We're not in the same conference, so I don't know where that is."
You know it was a proper rivalry because the winner of each River City Rivalry between 2005 and 2012 was awarded the Paddlewheel Trophy. Pitt held the Paddlewheel Trophy twice against Narduzzi, in 2005 and 2006. But as Narduzzi turned his attention to Cincinnati this week, the trophy was the last thing on his mind.
"I was worried about their personnel more than a trophy," Narduzzi said. "The trophy really doesn't matter or will matter to me, but we'll see. I don't know if it'll be here or not. I don't know if our kids know what it is. It's been a while since we played them, and just focusing on executing and playing well."
Well, according to a report from the Pittsburgh Post-Gazette's Noah Hiles, the Paddlewheel Trophy will not be making an appearance at Acrisure Stadium Saturday.
So, it's just an ACC-Big 12 battle between two teams looking to start their Power Five slate off on the right foot. Narduzzi does still hold fond memories of his time in Cincinnati though, and he can certainly see the similarities between the two cities.
"When you look at it, Cincinnati is a tough team," Narduzzi said. "That's what I take from it. Cincinnati is tough. They're physical. They've got good football players. They'll be hungry coming in here. That's what I take.
"I just know that the DNA is very similar to a Pittsburgh kid. It'll be a hell of a game with them coming in here."
Cincinnati, in the first season of new head coach Scott Satterfield's tenure, is coming off a season-opening throttle of Eastern Kentucky last weekend. New quarterback Emory Jones, who has spent time at Florida and Arizona State, threw for 345 yards and five touchdowns, ran for two more scores and the Bearcats held EKU to just over 300 yards of total offense.
But Cincinnati, also now in its first season of Power Five football, was still projected to finish 13th in the Big 12. Ahead of only West Virginia — the next opponent on the schedule.
Pitt and Cincinnati have played 12 times over the last 101 years, but the series has laid dormant since a 34-10 Bearcats win in 2012. As Big East foes in the mid-2000s through the early-2010s, the series continued on an annual basis.
Pitt won the first seven meetings, including a debut 21-14 win in Pittsburgh in 1921, from 1921 until 2007. But Cincinnati took four of the next five from 2008-12. The final 2012 matchup came in Pitt's final Big East season, a season in which Tino Sunseri started at quarterback.
Kickoff Saturday night at Acrisure Stadium is set for 6:30 p.m., with The CW carrying the local broadcast on 22 The Point, and it will serve as the mini-revival of the River City Rivalry — with another game in Cincinnati in 2024.