Weed Man/PSN Recruiting Notebook: February 26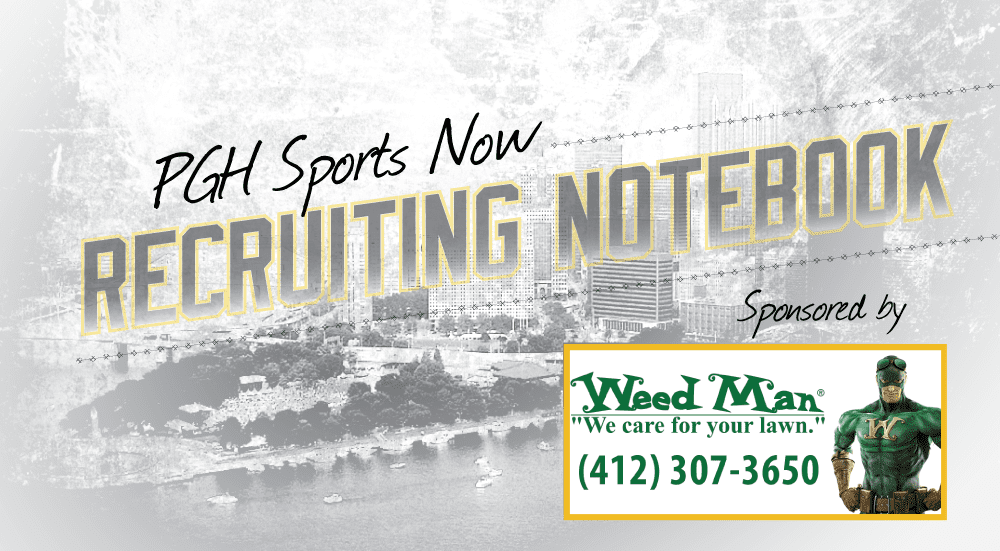 Stay updated on the news and notes of the day concerning Pitt, Duquesne, Robert Morris and the WPIAL in the Weed Man Recruiting Notebook. Spring is approaching and there's no better time than now to call Weed Man Pittsburgh at 412-307-3650 for all your lawn care services. Transform your lawn from a burden into a paradise with Weed Man.
UPDATE (5:37 PM)-
**Woodland Hills TE Josh Rawlings adds another Power 5 offer as he receives an offer from Minnesota. The 3-star recruit now holds offers from Pitt, Minnesota, Virginia, Temple, Toledo, Central Michigan, East Carolina, Bowling Green and Akron.
Blessings on top of blessings!✝️ 🙏🏾
I am extremely blessed and honored to receive an offer from The UNIVERSITY of MINNESOTA #Rowtheboat @210ths
@WHCOACHWalker23 @Evolve2tenth@WhCoachTim pic.twitter.com/b74q62mDxA

— Joshua J. Rawlings (@jraw089) February 26, 2019
UPDATE (3:45 PM)-
**PSN has learned that West Virginia will host 2020 First Love Christian Academy guards D.J. Gordon and Jett Roesing Tuesday night as the Mountaineers host TCU.
Gordon is a 6-foot-4 shooting guard that has a TCU offer along with offers from Arizona State, Central Connecticut State, Dayton, Eastern Michigan, Hofstra, Kent State, Monmouth, South Florida, VCU, Virginia Tech, Wichita State. He's also visited Pitt and Duquesne.
Roesing is a 6-foot-4 shooting guard with offers from Bryant, Central Connecticut State and Rider and has recently visited Marshall and St. Francis (Pa.).
UPDATE (3:19 PM)-
Redshirt freshman @NeenBon moves up to No. 9 this week in the @InterMat rankings!#pinzburgh » #H2P pic.twitter.com/aJoVG0HDT2

— Pitt Wrestling (@Pitt_WRES) February 26, 2019
UPDATE (10:37 AM)-
Congratulatory message to Xavier Johnson for breaking my Freshman scoring record!#H2P #pittbasketball #pittsburghbasketball #upitt #universityofPittsburgh pic.twitter.com/axlu2Cu3Tg

— CharlesDSmith (@CharlesDSmith54) February 26, 2019
UPDATE (10:26 AM)-
Just how improbable have some of Duquesne's wins been this season? Kenpom tells all… https://t.co/2DRr9KCdkC pic.twitter.com/PFdnBquvXv

— A10 Talk (@A10Talk) February 26, 2019
UPDATE (10:00 AM)-
**Pitt has extended an offer to 2020 Chesapeake, Virginia (Oscar Smith High School) offensive tackle Omega Williams. Williams is 6-foot-5, 230 pounds and has offers from Virginia, Howard and Morgan State.
Extremely blessed and honored to have received an offer from the University of Pittsburgh🐾 #GoPanthers #ColtBoyz @reddblaze7333 @BeattyCoach pic.twitter.com/HjlnlsAHWg

— Omega Williams (@OmegaWilliams7) February 26, 2019
Williams titled the highlight film of his junior season "Welcome to IHOP" and certainly knows his way around a pancake despite being one of the more slender offensive linemen you'll see on film. Check it out: https://www.hudl.com/video/3/9610441/5bfc78c3b53ecb0cec3f4c8b
UPDATE (9:29 AM)-
I am so blessed to be in this position and thank you to everyone that has been a part of my journey. I've talked to my family and I've thought a lot about it and I'm ready to make my decision. I'm excited to say that I'm committed to the University of Louisville! L's Up! pic.twitter.com/x6BqDudB9Z

— TJ Holl (@tj_holl) February 26, 2019
UPDATE (8:01 AM)-
Atlantic 10 Bracketology – February 26, 2019 https://t.co/xWyJQPuJeg pic.twitter.com/zBrAzlqOWl

— A10 Talk (@A10Talk) February 26, 2019
UPDATE (7:52 AM)-
**The next big recruit from Aliquippa appears to be linebacker Zuriah Fisher, who continues to receive more and more offers. Last night, Fisher (6'3″, 220) picked up an offer from Toledo and now holds offers from Syracuse, Ohio, UMass, Howard and Ball State.
Junior full season highlights💍🏆💪🏾 – https://t.co/2YtyOzgq3a

— Zuriah Fisher🦍 (@Zfish84) December 9, 2018