The Frank Walker Law/PSN Daily Notebook- June 17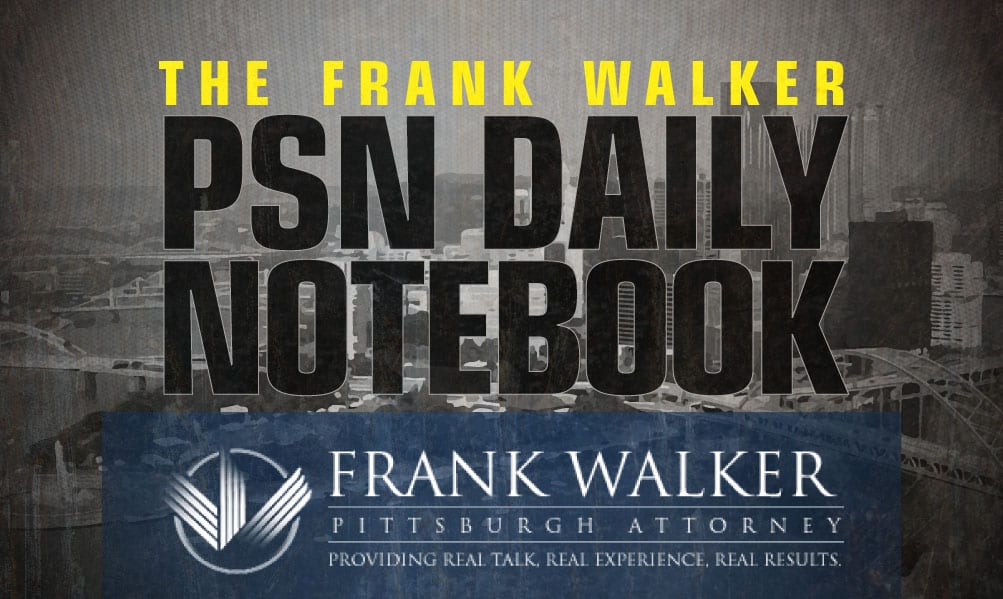 The PSN Daily Notebook is sponsored by Frank Walker, one of Pittsburgh and West Virginia's most respected criminal defense and injury lawyers. Mr. Walker has offices in Pittsburgh and Morgantown and has been named one of Top 100 National Trial Lawyers and is rated a perfect 10.0 Superb by Avvo for ethics, experience and results. To reach Mr. Walker, you can call 412-532-6805 or go to his website frankwalkerlaw.com. For real talk, real experience and real results, contact Frank Walker Law.
Update (6:01 PM)-
**This Sunday, 2025 quarterback Zachary Lawrence from Matthews, North Carolina will take part in Pitt's final prospect camp of the summer. The 6'2″, 190-pounder received his first D-1 offer on May 20th from Boston College.
The throw by @ZachQbLawrence and great grab by @TraughCyrus pic.twitter.com/vI3J7m7wjs

— Ryan Williams (@RWilliams_IPS) June 17, 2022
Update (5:44 PM)-
2024 6'9 F Christian Humphrey-Rembert told @PghSportsNow that he heard from Pitt associate HC Tim O'Toole.

Long forward out of La Lumiere (IN) @HumphreyRembert.

— George Michalowski (@MichalowskiCBB) June 17, 2022

Update (12:23 PM)-
**Congrats to Shenango 2023 offensive lineman Kyle Lenhart (6'3″, 280-pounds) as he makes a verbal commitment today to James Madison. Lenhart makes this decision after participating in a prospects camp and receiving an offer from them on June 12. Lenhart held other offers from Kent State, Harvard, Youngstown State, Richmond, Bucknell, Yale, Miami (OH), Albany, Navy, Lafayette, Lehigh, Fordham, Duquesne, Marshall and Dartmouth.
#GoDukes!!!!!! @JMUCurtCignetti @D_Wrobo @CoachShanahan_@JMUFootball pic.twitter.com/f2B1LJLzHn

— Kyle Lenhart (@kylelenhart53) June 16, 2022
Update (12:13 PM)-
**North Hills 2024 forward Royce Parham receives an offer on Thursday from VCU. The 6'8″ forward also holds offers from Pitt, Penn State, TCU, Robert Morris and George Mason.
Blessed to receive a offer from VCU after speaking with coach @CoachRhoades @Dwayne_Wise @teamdurant_AAU @VCU_Hoops @NorthHillsHoops pic.twitter.com/AarHVQ7v08

— Royce Parham (@RoyceParham) June 17, 2022
Update (9:40 AM)-
**Aliquippa 2024 4-star linebacker Cam Lindsey's first 10 D-1 offers.
#First10 @cx_lindsey i don't own this music. pic.twitter.com/iPj3pEfqlh

— Dwight Lindsey (@mrdlindsey) June 17, 2022
Around the Network
Steelers Now: Colin Cowherd Rips Fitzpatrick Signing, Questions Steelers Standard
Pittsburgh Hockey Now: Evgeni Malkin Value: Comparables, Performance, and Replacement Cost
Pittsburgh Baseball Now: Potential Pittsburgh Pirates Draft Options 2.0
WVU Sports Now: Dante Stills Named Lone WVU Pre-Season All-American by Phil Steele
Nittany Sports Now: STUDY SAYS PENN STATE HAS 4TH LARGEST COLLEGE FOOTBALL FANBASE