The Frank Walker/PSN Daily Notebook- August 10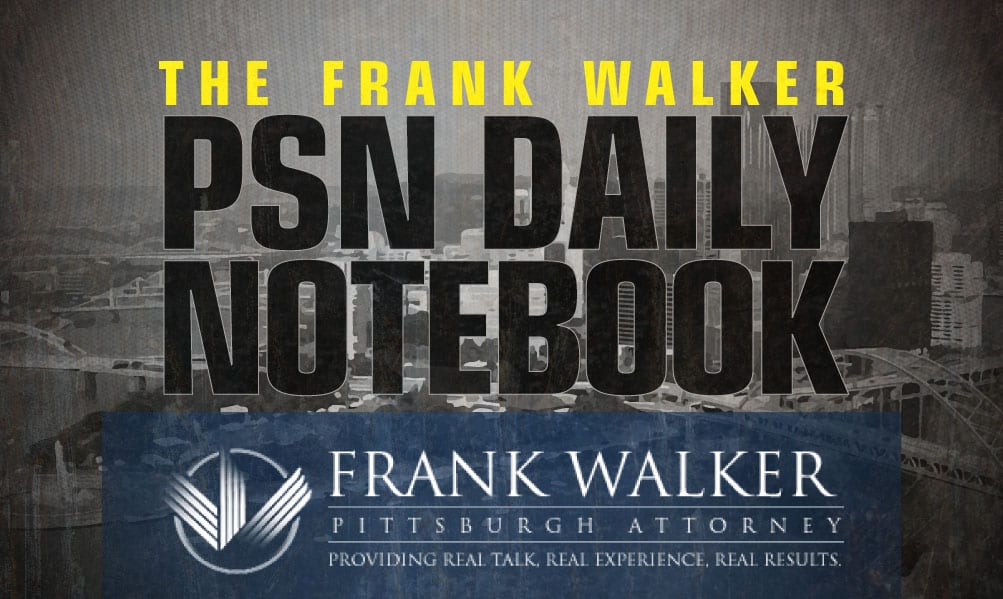 The PSN Daily Notebook is sponsored by Frank Walker, one of Pittsburgh and West Virginia's most respected criminal defense and injury lawyers. Mr. Walker has offices in Pittsburgh and Morgantown and has been named one of Top 100 National Trial Lawyers and is rated a perfect 10.0 Superb by Avvo for ethics, experience and results. To reach Mr. Walker, you can call 412-532-6805 or go to his website frankwalkerlaw.com. For real talk, real experience and real results, contact Frank Walker Law.
Update (3:08 PM)-
Excited to announce this one…

HIRED » Nino Bonaccorsi 👏

» 2023 NCAA Champion 🥇
» Three-Time All-American 🇺🇸
» Three-Time ACC Champion 🏆
» ACC Scholar Athlete of the Year 📚@NeenBon stays at Pitt as our program's Student-Athlete Development Coordinator!#H2P » #PINZBURGH pic.twitter.com/oJkqDmf86n

— Pitt Wrestling (@Pitt_WRES) August 10, 2023
Update (3:02 PM)-
𝗧𝗥𝗘𝗡𝗗𝗜𝗡𝗚: #Rams All-Pro DL Aaron Donald says he feels "in the best shape of his life" after rehabbing from ankle surgery, per @HauteLiving

He's avoiding fried food, sugars, and things that can cause inflammation, along with focusing on eating more protein.

"I grew up a… pic.twitter.com/JBTpvIEICM

— JPAFootball (@jasrifootball) August 10, 2023
Update (2:07 PM)-
This has to be said: Chris Bickell is solidifying his legacy as a #Pitt legend. A true #Pitt man & innovative thinker. His work with @Alliance_412 isn't just keeping the Panthers competitive in the world of NIL. Its placing them ahead of the pack. #respect and #H2P 🟡🔵 pic.twitter.com/FiDoiTz4pV

— Harry G. Psaros (@PittGuru) August 10, 2023
Update (9:33 AM)-
We promise, coach Verdi isn't always this serious 😂#H2P pic.twitter.com/LyZX706LDr

— Pitt Basketball (@Pitt_WBB) August 9, 2023
Update (9:25 AM)- 
**A big SEC offer for Westinghouse 2026 defensive back Kyshawn Robinson. Along with South Carolina, Robinson also holds offers from Pitt, Florida, Penn State, West Virginia, Nebraska, Syracuse, Texas A&M, UNLV, Toledo and Akron.
#AGTG South Carolina Offered⚪️ #GoGameCocks@P_ELLSY @CoachClaytonW @togray14 @GamecockFB @WHCoachGreen @TWalls_SB @coachwil_412 @EatTeam_2 @Cant_man2man23 @210ths @PA_TodaySports @PRZPAvic @RivalsDylanCC @EdOBrienCFB @RivalsFriedman @On3sports @247Sports @Rivals pic.twitter.com/gNvnISoKXq

— Kyshawn(K2) Robinson (@KyshawnR12) August 10, 2023