The Frank Walker Law/PSN Daily Notebook- August 29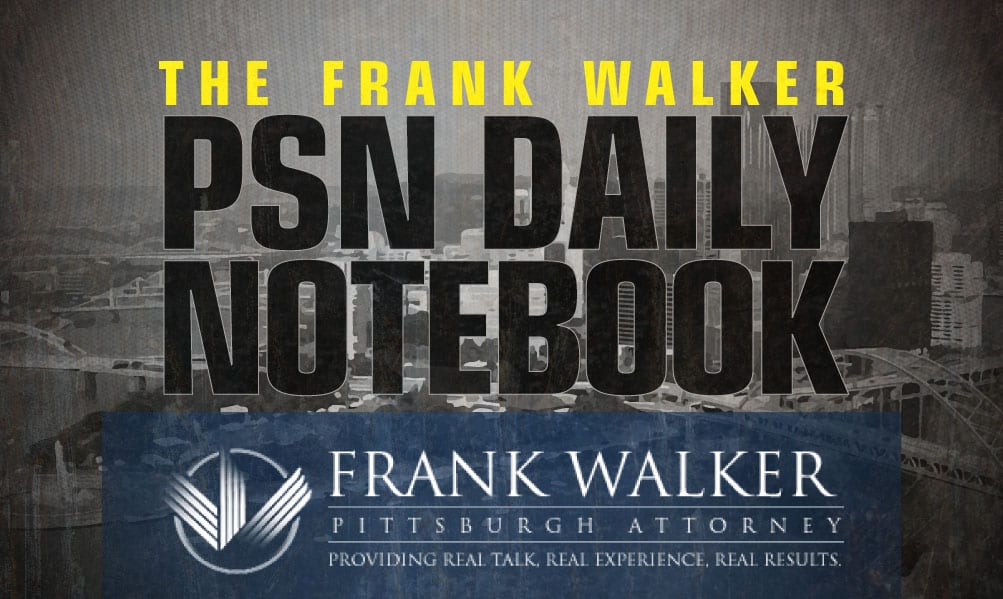 The PSN Daily Notebook is sponsored by Frank Walker, one of Pittsburgh and West Virginia's most respected criminal defense and injury lawyers. Mr. Walker has offices in Pittsburgh and Morgantown and has been named one of Top 100 National Trial Lawyers and is rated a perfect 10.0 Superb by Avvo for ethics, experience and results. To reach Mr. Walker, you can call 412-532-6805 or go to his website frankwalkerlaw.com. For real talk, real experience and real results, contact Frank Walker Law.
Update (4:01 PM)-
#Saints waived Lucas Krull, per a league source. He had seven catches for 106 yards in preseason finale against #Texans @KPRC2

— Aaron Wilson (@AaronWilson_NFL) August 29, 2023
Jimmy Morrissey is a candidate for #Texans practice squad. However, he could be a candidate to be claimed on waivers by another team @KPRC2 https://t.co/X1cm30G1lM

— Aaron Wilson (@AaronWilson_NFL) August 29, 2023
Update (3:06 PM)-
If you couldn't tell, we're pretty excited about getting back to WORK 💪🗣️#H2P // #BeDifferent pic.twitter.com/rndhzjmqMl

— Pitt Basketball (@Pitt_WBB) August 29, 2023
Update (1:54 PM)-
Damar Hamlin has made the #Bills' 53-man roster, per source.

Hamlin has been working in camp as a backup safety and special teamer as he continues to make his way back after suffering cardiac arrest on the field in January. pic.twitter.com/HfjHPfDV6d

— Tom Pelissero (@TomPelissero) August 29, 2023
Update (1:52 PM)-
The #Bears are releasing QB Nathan Peterman, per source. They want him back on the practice squad.

— Tom Pelissero (@TomPelissero) August 29, 2023
Update (1:41 PM)-
Vukovcan: Shame on WPIAL and PIAA For Letting Down Hopewell 7th Grader Richie DeFallo
Update (11:55 AM)-
Former #Pitt WR Jared Wayne got cut by the Houston Texans https://t.co/yY4Lmid5LQ

— Dominic Campbell (@DOMISMONEY) August 29, 2023
Update (11:50 AM)-
How are my Week 1 @ActionNetworkHQ bowl projections? Much better than Navy's run defense vs. Notre Dame. @CFBPlayoff: Michigan-Florida St, Georgia-Ohio St; Fenway: Boston College-Memphis; 1st Responder: Missouri-Okla. State; Armed Forces: BYU-Fresno Sthttps://t.co/FLCv4lZcw5 pic.twitter.com/L2GSy4N80i

— Brett McMurphy (@Brett_McMurphy) August 29, 2023
Update (11:11 AM)- 
Your Week 2⃣ ACC Offensive Player of the Week 🔥

Congrats, @sarahschupansky !

📰: https://t.co/vi09wwgtaO#H2P pic.twitter.com/oRW4Da5ZZS

— Pitt Women's Soccer (@Pitt_WSOC) August 29, 2023
CPR Training for the Panthers 🫶

Huge thanks to Dr. Sylvia Owusu-Ansah and @UPMC staff for spending time with us this morning for an important initiative to train the entire team in CPR basics.

Appreciative of being around the best medical minds in the world at Pitt! #H2P pic.twitter.com/mOdj5tAiW0

— Pitt Wrestling (@Pitt_WRES) August 29, 2023
Update (10:44 AM)-
#Pitt mentioned — Sounds like Panthers reached out or talked with Buckner a bit at/after Peach Jam.

Love everything about his game for a mid-major program https://t.co/vTz6irhkDy

— George Michalowski (@MichalowskiCBB) August 29, 2023
Update (10:08 AM)-
**Former Pine-Richland standout quarterback Ben Dinucci has been waived by the Denver Broncos.
Broncos waived QB Ben Dinucci.

— Adam Schefter (@AdamSchefter) August 29, 2023
Update (10:01 AM)-
The Buffalo Bills #BillsMafia and the Carolina Panthers #KeepPounding each have a scout at #Pitt football practice today

— Dominic Campbell (@DOMISMONEY) August 29, 2023
Update (9:54 AM)-
Free-spending boosters once killed the SMU football program. Four decades later could they propel it back to the big time? Money is no object. https://t.co/IqA9rhOOFl

— Dan Wetzel (@DanWetzel) August 29, 2023
Update (9:47 AM)-
**A few former Pitt Panthers unfortunately were part of training camp cuts before the start of the regular season. Keep in mind, all players will have the chance to get re-signed to the teams practice squads.
-NY Giants have released OLB Habakkuk Baldonado.
-Chicago Bears have waived/injured OL Gabe Houy.
-Jacksonville Jaguars have cut RB Qadree Ollison.
-Miami Dolphins have cut DT Jaylen Twyman.
Update (9:14 AM)-
**Tim Salem and Pitt extended an offer on Monday to 2026 quarterback Noah Grubbs from Lake Mary High School in Lake Mary, Florida. Grubbs (6'4″, 220-pounds) had a record-breaking opening week, throwing completing 25-37 passes for 528 yards and 8 touchdowns. Along with Pitt, Grubbs also holds early offers from Miami, Michigan, Notre Dame, Penn State, Texas A&M, Central Florida, Virginia Tech and West Virginia.
Week 1 | Players of the Week 💥
SCHOOL RECORDS BROKEN‼️
Noah Grubbs (@NoahGrubbsQB) @LMRamsFootball
Jamarie Pierre (@Deshae_32) @hawks_horizon @DanLaForestFB @osvarsity @HSFB_Scoreboard @JMarkG1962 @CenFLAPreps @FlaHSFootball @SBLiveFL @Andy_Villamarzo @larryblustein @JCCarnz pic.twitter.com/7FU4vamtI9

— Orlando TD Club (@OrlandoTD_Club) August 29, 2023