The Frank Walker Law/PSN Daily Notebook- August 30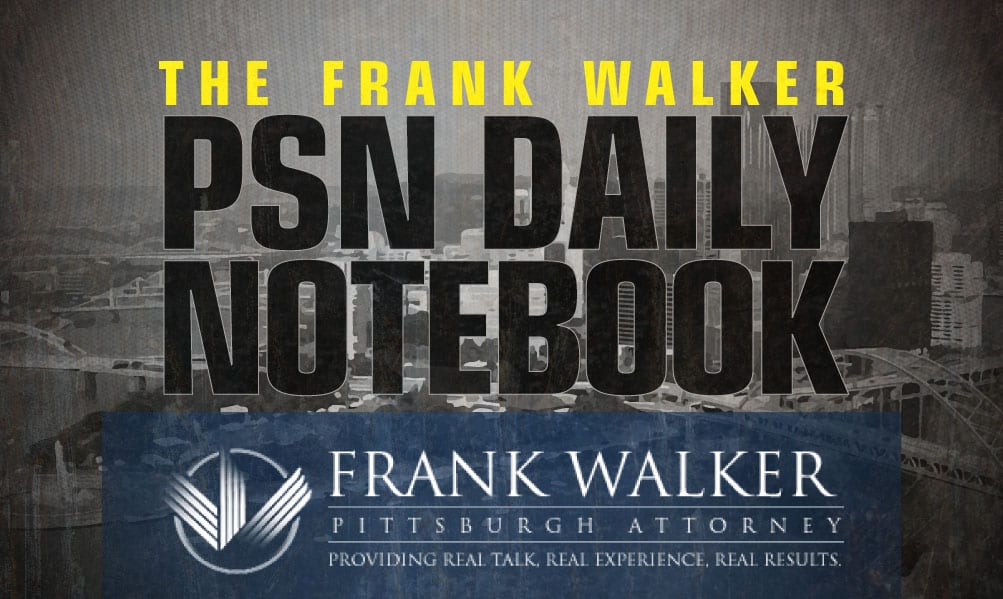 The PSN Daily Notebook is sponsored by Frank Walker, one of Pittsburgh and West Virginia's most respected criminal defense and injury lawyers. Mr. Walker has offices in Pittsburgh and Morgantown and has been named one of Top 100 National Trial Lawyers and is rated a perfect 10.0 Superb by Avvo for ethics, experience and results. To reach Mr. Walker, you can call 412-532-6805 or go to his website frankwalkerlaw.com. For real talk, real experience and real results, contact Frank Walker Law.
Update (3:30 p.m.)-
Former Pitt defensive back Erick Hallett II is back with the Jacksonville Jaguars after they waived him yesterday, as he will sign with the practice squad. The Jaguars made Hallett the first Pitt player they ever drafted this season with the No. 208 pick in Sixth Round of the 2023 NFL Draft.
#Jaguars practice squad Chandler Brewer, D.J. Coleman, Coy Cronk, De'Shaan Dixon, Erick Hallett II, Dequan Jackson, Derek Parish, Nathan Rourke, Darryl Williams, Seth Williams, Tevaughn Campbell, Snoope Conner, Jacob Harris

— Aaron Wilson (@AaronWilson_NFL) August 30, 2023
Update (1:58 PM)-
**After getting released yesterday, two former Pitt Panthers have signed on with NFL practice squads.
–Center Jimmy Morrisey has signed back with the Houston Texans.
–Offensive tackle Jaryd Jones-Smith has signed back with the Washington Commanders.
Update (1:53 PM)-
TE Lucas Krull, who led the TE position in catches and yards this NFL Preseason, is signing with the Denver Broncos pic.twitter.com/z2emVgt0x1

— Joseph Potts (@TopSpeedLLC) August 30, 2023
Update (12:40 PM)-
QB Ben DiNucci is resigning with Denver's practice squad.

— Adam Schefter (@AdamSchefter) August 30, 2023
Update (12:34 PM)-
The Voice of Football in Pittsburgh 🔊

This Saturday, Bill Hillgrove begins his 50th season on Pitt play-by-play duty 🎤 pic.twitter.com/RzvPzyqkSH

— Pitt Football (@Pitt_FB) August 30, 2023
Update (12:25 PM)-
Some more college depth chart news: Pine-Richland's Miguel Jackson is a starting DT at Charlotte, Mt. Lebanon's Coleman Coco a starting DE at Rice, and Wash High's Chase Mitchell a starting OL at Liberty. #WPIAL

— Brad Everett (@BREAL412) August 30, 2023
Update (11:57 AM)-
Oakland Originals has partnered with Southern Tier to create the Fake Slide Pilsner!

This easy-drinking pilsner is the perfect game day beverage for Pitt fans.

A portion of all sales go to support Alliance 412, the preferred NIL collective of Pitt Athletics. pic.twitter.com/lwVq2NFDqE

— Oakland Originals (@OklndOriginals) August 30, 2023