The Frank Walker Law/PSN Daily Notebook- September 20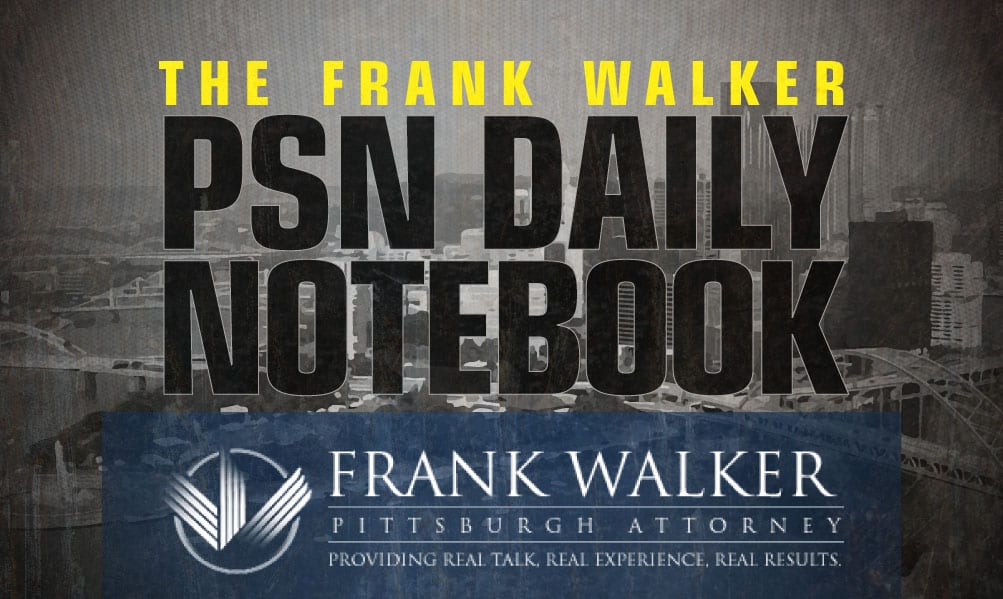 The PSN Daily Notebook is sponsored by Frank Walker, one of Pittsburgh and West Virginia's most respected criminal defense and injury lawyers. Mr. Walker has offices in Pittsburgh and Morgantown and has been named one of Top 100 National Trial Lawyers and is rated a perfect 10.0 Superb by Avvo for ethics, experience and results. To reach Mr. Walker, you can call 412-532-6805 or go to his website frankwalkerlaw.com. For real talk, real experience and real results, contact Frank Walker Law.
Update (4:51 PM)-
Arizona, Creighton, Dartmouth, Elon, Georgia Southern HC, Notre Dame, & Pitt were in at @BrewsterHoops pic.twitter.com/I2e5HjB9hK

— 𝒜𝓃𝒹𝓇ℯ𝓌 𝒮𝓁𝒶𝓉ℯ𝓇 (@Andrew__Slater) September 20, 2023
Update (4:47 PM)-
𝗥𝗘𝗣𝗢𝗥𝗧: The #Bears announce they've released veteran QB Nathan Peterman. pic.twitter.com/ldKmEsZFGY

— JPAFootball (@jasrifootball) September 20, 2023
Update (4:08 PM)-
He had 1 yard to get the 1st down ..Wtf I'm spose to let him get the first https://t.co/Yx3VhMXm6s

— jordan whitehead (@jwhite_333) September 20, 2023
Update (1:25 PM)-
Brendan Alexander will be at the White Out. Alexander (2026) is a 6-foot-4, 270-pound lineman from Central Valley High School in the Pittsburgh Area. PSU offered him earlier this month. https://t.co/4zKp8lsOHC pic.twitter.com/lkLiAyTPYe

— Nittany Sports Now (@NittanySN) September 20, 2023
2024 @Pitt_FB commit receives a nice honor! Congrats Francis. https://t.co/0Rn9xgBcq9

— Pittsburgh Sports Now (@PghSportsNow) September 20, 2023
Update (1:16 PM)-
Pitt has allowed pressure on 44.8% of its dropbacks when the defense did not bring an extra pass rusher (i.e. no blitz).

That's the worst mark in the country & up 34% from last year.

Of note: Alabama is 126th. Colorado is 125th.

— 💫🅰️♈️🆔 (@ADavidHaleJoint) September 20, 2023
Update (1:13 PM)-
This is how a QB loses all confidence. Phil has not been good, but when you are constantly getting pressured and hit, it can kill your psyche and totally ruin your footwork. Then you struggle. Then you force it. Then you get the yips. https://t.co/cpmanGrBjk

— Nick Gordon (@Nick_Gordon19) September 20, 2023
Update (10:10 AM)-
Our 2023-24 schedule is set ✔️

🗓️: https://t.co/ODvee58b7n
🎟️: https://t.co/XcPg6qxFJx #GoDukes | #A10WBB pic.twitter.com/hTu8eTlpoM

— Duquesne Women's Basketball (@DuqWBB) September 20, 2023
Update (9:48 AM)-
**The offers keep rolling in for Westinghouse 2026 defensive back Kyshawn Robinson. This morning, Robinson picked up an offer from the Purdue Boilermakers. Robinson offer list now includes Syracuse, Temple, USC, Colorado, South Carolina, Florida, UNLV, West Virginia, Nebraska, Penn State, Toledo, Akron, Texas A&M and Pitt.
Film from last weeks game against USO.. https://t.co/TWmQ94Sl9h@WHCoachGreen @coachwil_412 @EatTeam_2 @Cant_man2man23 @EdOBrienCFB @PRZPAvic @MohrRecruiting @RivalsFriedman @PA_TodaySports @210ths @wpialsportsnews pic.twitter.com/in16agyyWv

— Kyshawn(K2) Robinson (@KyshawnR12) September 19, 2023