The Frank Walker Law/PSN Daily Notebook: August 3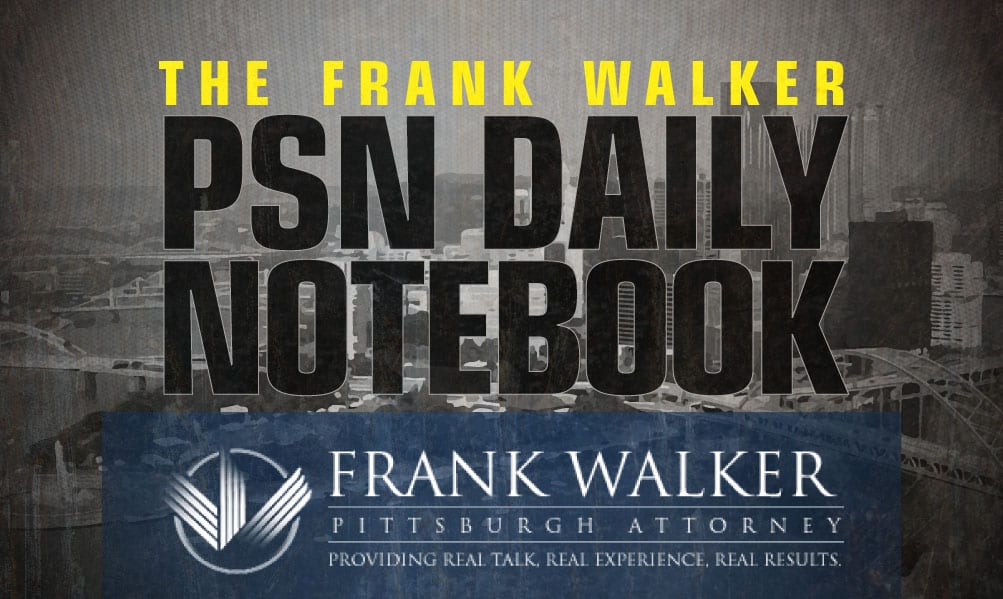 The PSN Daily Notebook is sponsored by Frank Walker, one of Pittsburgh and West Virginia's most respected criminal defense and injury lawyers. Mr. Walker has offices in Pittsburgh and Morgantown and has been named one of Top 100 National Trial Lawyers and is rated a perfect 10.0 Superb by Avvo for ethics, experience and results. To reach Mr. Walker, you can call 412-532-6805 or go to his website frankwalkerlaw.com. For real talk, real experience and real results, contact Frank Walker Law.
AROUND THE NETWORK
Steelers Now: Best ever to wear each number features some former Pitt greats.
Pittsburgh Soccer Now: Duquesne adds nine players to its men's soccer recruiting class
Pittsburgh Hockey Now: Meet the new guy, Brock McGinn
WV Sports Now: The Big 12 keeps on imploding
Nittany Sports Now: The Nittany Lions have the #1 recruiting class in the nation for 2022
Update (7:55 PM)-
**Pitt extends an offer today to 2023 athlete Keenan Kuntz from West Valley High School in Yakima, Washington. Kuntz received the news from Brennan Marion and this was big because it was Kuntz's first D-1 scholarship offer. Kuntz is also a standout track and field athlete.
Giving everyone a heads up my 2023 Wideout @keenan_kuntz will be one of the countries best!! Just clocked in official 10.63 in the 100m today in the prelims @AAUTrackNField Nationals! Be ready he's coming!!!!!! #TeamFSP #WeReloaded huff pic.twitter.com/WaOkrguENI

— tfordfsp1 (@tfordfsp1) August 3, 2021
Update (7:47 PM)- 
**Mt. Lebanon 2022 athlete Eli Heidenreich commits today to Navy.
Set The Course. Don't Give Up The Ship. #Committed@mtlebofootball —> @NavyFB pic.twitter.com/bE4s5VVdMe

— Eli Heidenreich (@EHeidenreich44) August 3, 2021
Update (7:22 PM)- 
My dawg 🗣🗣🗣 @CalAdomitis https://t.co/t2A1cvsEDI

— Darian Street (@dstreeet_23) August 3, 2021
Tonight at 9 on ESPN, D.J. Kennedy and DeAndre Kane will play for a share of $1 million when they try to help Boeheim's Army win the @thetournament title. Kennedy has already won four TBT titles and Kane three. @PGHCityLeague

— Brad Everett (@BREAL412) August 3, 2021
Update (7:16 PM)-
Pine-Richland grad Lauren Freyvogel playing in the U.S. Women's Amateur this week.@TribLiveHSSN @wpial7 https://t.co/NETpBUP6bC

— Bill Beckner (@BillBeckner) August 3, 2021
Update (2:05 PM)-
Back at the Pete for the B1G/ACC Challenge!

12.1.21 ➡️ Pitt ❌ Rutgers#H2P // #GoBeyond

— Pitt Basketball (@Pitt_WBB) August 3, 2021
Update (1:29 PM)-
"I like our football team. We've got more depth than we've ever had."

Coach Pat Narduzzi checked in with Packer & Durham this morning to preview the start of Pitt's August camp.@CoachDuzzPittFB @MarkPacker@WesDurham#H2P » @ACCNetwork pic.twitter.com/JEwo9OewaG

— Pitt Football (@Pitt_FB) August 3, 2021
Update (12:20 PM)-
FSU president John Thrasher: "I want to be clear that persistent reports that Florida State has been in contact with the Southeastern Conference are untrue. We have had no communication with the SEC or any representatives of the SEC."

— Nicole Auerbach (@NicoleAuerbach) August 3, 2021
Update (11:05 AM)- 
**2023 quarterback Neeo Avery (Good Counsel High School in Olney, Maryland) will announce his college decision this Friday. Avery tells Pittsburgh Sports Now that his finalists are Georgia, Penn State, Maryland and Pitt. The favorite is believed to be Georgia.
— Neeo Avery (@Neeo_avery) April 11, 2021
I will be announcing my commitment this Friday at 12!!! pic.twitter.com/zOUiOZVEzf

— Neeo Avery (@Neeo_avery) August 3, 2021

Update (9:55 AM)-
Tune in to ESPN3 today at 11am ET for #NECFB Virtual Day featuring @CoachSchmittDU, Leandro DeBrito, & Jake Dixon‼️ 📺 #GoDukes https://t.co/rySdtbtOir

— Duquesne Football (@DuqFB) August 3, 2021
Update (9:29 AM)- 
Roster management is a mess because of the COVID year, and Dabo Swinney expressed his frustration at what a bad spot coaches are in. (Dave Clawson and Bronco Mendenhall have echoed similar thoughts.) pic.twitter.com/WvolOLcpfU

— Pete Thamel (@PeteThamel) August 3, 2021
Update (8:15 AM)-
**Monday evening, Mt. Lebanon 2022 athlete Alex Tecza received an offer from Delaware. The 6'1″, 190 lb running back/safety also holds offers from Colgate, Dartmouth, Holy Cross, Fordham, Duquesne, Robert Morris, Davidson, Army, Navy, Columbia and Penn.
Update (8:05 AM)-
**The latest Power 5 offer for Pine-Richland 2022 OT/DE Jalen Klemm comes from Kansas State. The 6'5″, 265 recruit also holds Power Five offers from Arizona, Arizona State, Colorado, Nebraska, NC State, Vanderbilt and Washington State.
Update (7:21 AM)-
Coach Bates and ⁦@_Deslin⁩ visited long time Pitt season ticket holder "Brownie" Brown. "We're rooting for YOU,Mr. Brown"#PittMen 💙💛 pic.twitter.com/En4uc2RTcB

— Celeste Welsh (@CelesteWelsh) August 3, 2021