The Frank Walker Law/PSN Daily Notebook: August 4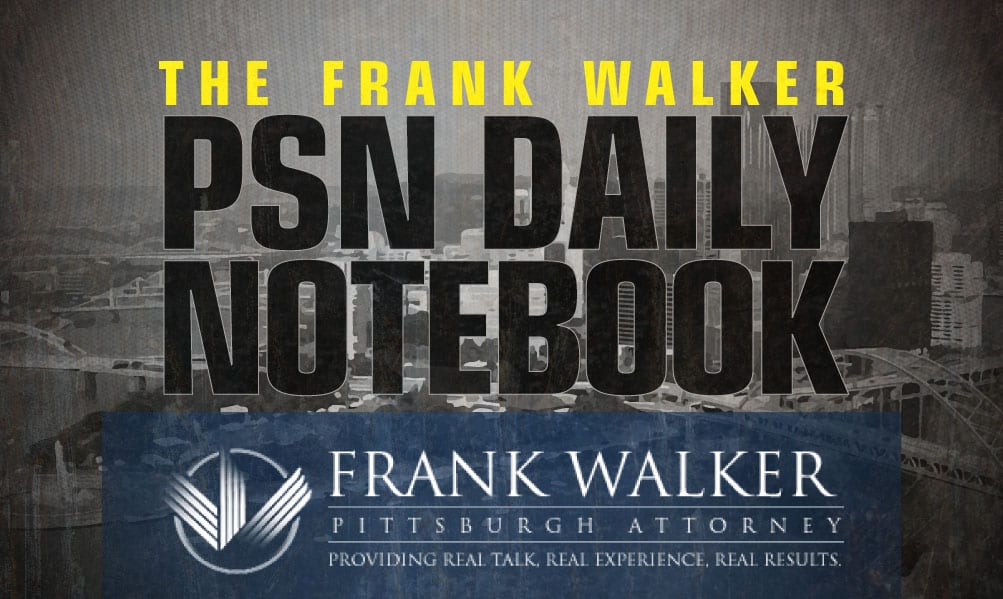 The PSN Daily Notebook is sponsored by Frank Walker, one of Pittsburgh and West Virginia's most respected criminal defense and injury lawyers. Mr. Walker has offices in Pittsburgh and Morgantown and has been named one of Top 100 National Trial Lawyers and is rated a perfect 10.0 Superb by Avvo for ethics, experience and results. To reach Mr. Walker, you can call 412-532-6805 or go to his website frankwalkerlaw.com. For real talk, real experience and real results, contact Frank Walker Law.
Update (9:50 PM)- 
**Pitt extends an offer to 2023 athlete Moussa Kane (6'1", 176) from Blair Academy in Blairstown, New Jersey. Kane holds offers from Boston College, Clemson, Penn State, Purdue, Rutgers, Syracuse and Virginia Tech.
Update (6:14 PM)-
Slippery Rock was voted as the team to beat in the Pennsylvania State Athletic Conference Coaches Preseason Football Poll. https://t.co/OSTUphUl55

— Tribune-ReviewSports (@TribSports) August 4, 2021
Update (4:31 PM)-
@brandonhill_6 Somebody is ready for the Fall Season 🏈 Ok, Pittsburgh, take care of my baby. My goodbyes are tearless now. 😂 Prayers for a healthy season. H2P! 💙💛 pic.twitter.com/CV0vuoxlpS

— Adrienne Hill (@adriennehill921) August 4, 2021
Update (3:12 PM)-
**Pitt extends an offer on Wednesday to 2022 safety/wide receiver Jordan Buchanan (6'1″, 175) from Suwannee, Georgia. Buchanan received the offer from Archie Collins and also holds offers from LSU and Kentucky.
Some videos from the field yesterday pic.twitter.com/1wjfn6LP6S

— Jordan Buchanan (@J_buchanan4) June 4, 2021
Update (12:21 PM)-
Question: Who are your ACC breakout candidates for 2021? Not easy ones like Jhamyr Gibbs or Ty Chandler… but a little more off the radar…

A few of mine:
Pitt TE Lucas Krull
Lville WR Tyler Harrell
Miami RB Don Chaney
VT DB Devin Taylor
UNC WR Josh Downs
GT DE Jordan Domineck

— 💫🅰️♈️🆔 (@ADavidHaleJoint) August 4, 2021
Update (10:46 AM)-
Quick teaser before camp tomorrow😤 coming for everything I prayed for this year 🔥#championshiprun #H2P #selloutheinz pic.twitter.com/c0ibO1RNQI

— Phil Campbell III (@PCampell24) August 4, 2021
Update (8:44 AM)-
Pittsburgh City League legends‼️ https://t.co/HsZFFA2stC

— Brad Everett (@BREAL412) August 4, 2021
Update (8:28 AM)-
A memorable week for ⁦@Pitt_ATHLETICS⁩ and ⁦@Pitt_FB⁩ history at the ⁦@ProFootballHOF⁩! Congratulations to Jim Covert! #H2P #ProudCantonKid pic.twitter.com/rJo5zbgAu8

— Heather Lyke (@Pitt_LykeAD) August 4, 2021
Update (7:30 AM)-
The Top 5 Quarterbacks that Pitt football will face this season –https://t.co/r7B6qxAgKZ via @247sports pic.twitter.com/mxKBWqLaDK

— EdOBrien247 (@EdOBrien247) August 4, 2021