The Frank Walker Law/PSN Daily Notebook- July 25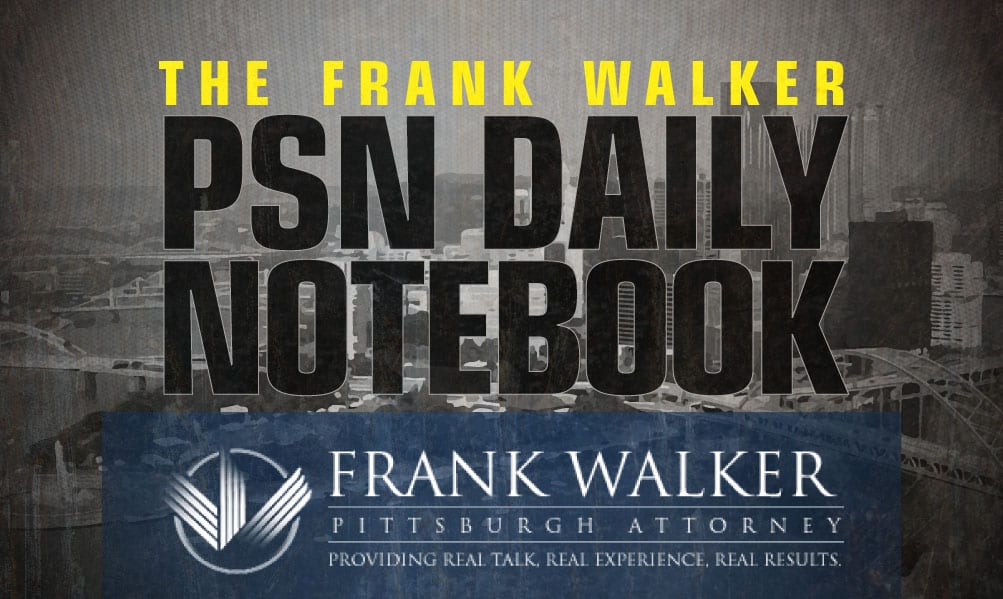 The PSN Daily Notebook is sponsored by Frank Walker, one of Pittsburgh and West Virginia's most respected criminal defense and injury lawyers. Mr. Walker has offices in Pittsburgh and Morgantown and has been named one of Top 100 National Trial Lawyers and is rated a perfect 10.0 Superb by Avvo for ethics, experience and results. To reach Mr. Walker, you can call 412-532-6805 or go to his website frankwalkerlaw.com. For real talk, real experience and real results, contact Frank Walker Law.
Update (8:16 PM)-
🙏🏾Praying for Bronny James and his family. Scary. So young. Hoping they all have strength & patience as they go through the process of Bronny making a full recovery. #CPR

— Milan Brown (@coachmbrown) July 25, 2023
Update (11:09 AM)-
Prayers to Bronny & The James family as well. 🙏🏽 here for you guys just like you have been for me my entire process.

— 𝐃𝐚𝐦𝐚𝐫 𝐇𝐚𝐦𝐥𝐢𝐧 (@HamlinIsland) July 25, 2023
Update (10:19 AM)-
wish me luck 🙏🏽💕🧎🏾‍♂️

— 𝐃𝐚𝐦𝐚𝐫 𝐇𝐚𝐦𝐥𝐢𝐧 (@HamlinIsland) July 25, 2023
Update (10:03 AM)-
**Pitt football has extended an offer to 2025 defensive lineman Gus Cordova from Lake Travis High School in Austin, Texas. Cordova (6'5″, 250-pounds) also holds offers from Oklahoma and Baylor.
Thank you to my family, coaches and teammates for pushing me to greater heights throughout the season. Love and appreciate you all. Here are my sophomore season highlights.
⁦@LT_FBRecruiting⁩ ⁦@CoachHankCarter⁩ ⁦@omar8a33⁩ ⁦⁦⁦ https://t.co/MlLQBtosxh

— Gus "The Bus" Cordova (@Gus_Cordova96) January 15, 2023