The Frank Walker Law/PSN Daily Notebook- October 13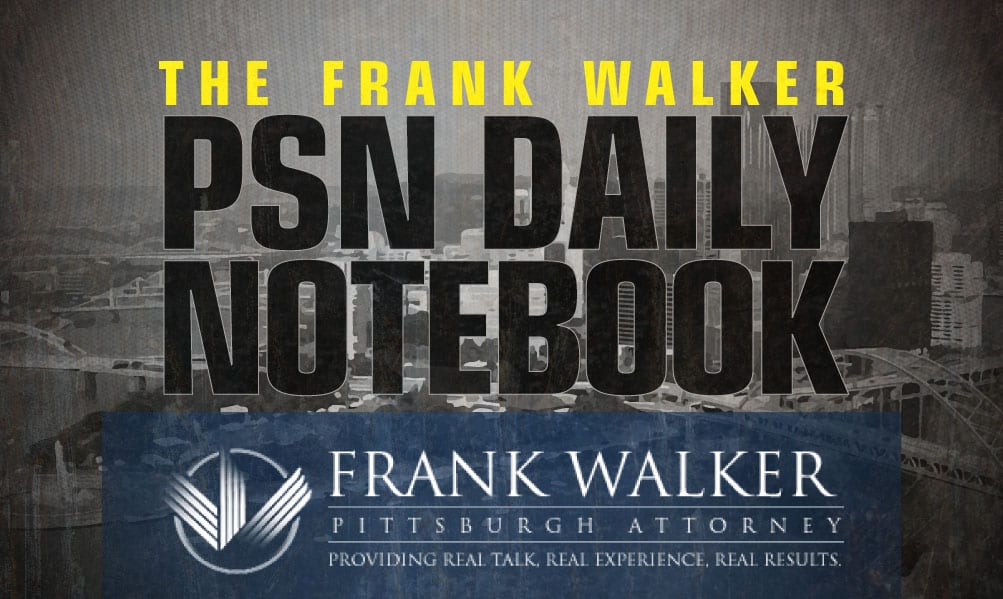 The PSN Daily Notebook is sponsored by Frank Walker, one of Pittsburgh and West Virginia's most respected criminal defense and injury lawyers. Mr. Walker has offices in Pittsburgh and Morgantown and has been named one of Top 100 National Trial Lawyers and is rated a perfect 10.0 Superb by Avvo for ethics, experience and results. To reach Mr. Walker, you can call 412-532-6805 or go to his website frankwalkerlaw.com. For real talk, real experience and real results, contact Frank Walker Law.
Update (1:33 PM)-
If you want to get fired up for tonight's @Pitt_VB match vs Louisville at 7:00pm on @ESPNU…check out this comeback win! This TEAM will bring IT! #H2P https://t.co/sG7b3N69eN

— Heather Lyke (@Pitt_LykeAD) October 13, 2023
Update (12:20 PM)-
**Isaac Moore is a 2025 forward from Burlington, New Jersey and he'll reportedly visiting Robert Morris this weekend. Back in May, Andy Toole and Robert Morris were the first school to extend Moore an offer.
Per source, 2025 @LifeCenterHoops/@KLowElite forward Isaac Moore will be on campus at Robert Morris this weekend for an unofficial visit pic.twitter.com/elXvU6Tpzv

— Ari Rosenfeld (@ARosenfeldHoops) October 13, 2023
Update (12:09 PM)-
**A huge offer for a y0ung WPIAL standout. Imani Christian 2026 athlete David Davis received an offer from a school that doesn't normally recruit the WPIAL, the Tennessee Volunteers. Davis (6'0″, 175-pounds) is a member of that very talented Imani Chrisitan team. Along with Tennessee, Davis also holds offers from Pitt, Penn State, West Virginia, Akron, Kent State, Toledo, Duke, Kentucky and Nebraska.
After a conversation with my coach @Chise89 excited to announce I've received my 11th offer from the University of Tennessee #govols 🟠⚪️@Cade_Edlein19 @Vol_Football @VolsCoachHeupel @210ths pic.twitter.com/mU6ozT6ARj

— David Davis (DB/RB) (@DavidDavis781) October 13, 2023
Updated (9:28 AM)- 
**Pitt football will receive a visit tomorrow from talented Central Catholic freshman offensive lineman Jimmy Kalis. Kalis will be a big recruit over the next few seasons.
I will be attending the @Pitt_FB game vs Louisville this Weekend! @timothysasson @CoachDuzzPittFB @AdamCalt @wpialsportsnews @PghSportsNow @PA_TodaySports pic.twitter.com/lGJaD9U6Md

— Jimmy Kalis (@KalisJimmy) October 13, 2023
Update (9:11 AM)- 
**Congrats to Peters Township 2025 athlete Mickey Vaccarello for receiving an offer last night from Syracuse. Vaccarello also holds offers from Noston College, Miami (Ohio) and Duquesne.
Check out the mid season highlights
5-0https://t.co/gMvUG8BZ4N

— Mickey Vaccarello (@MickeyVac) September 27, 2023