Weed Man USA/PSN Recruiting Notebook: September 1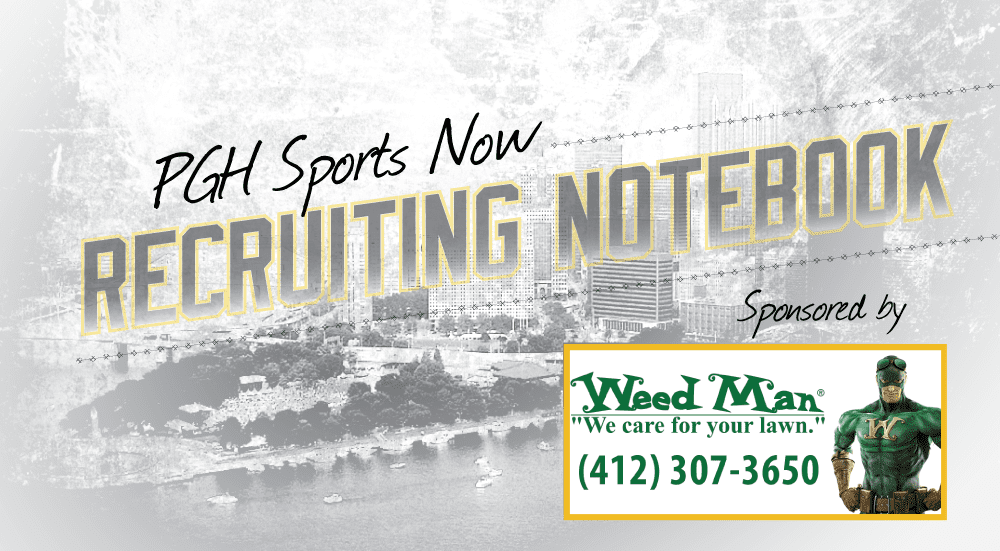 The PSN Recruiting Notebook, your home for the latest recruiting news on Pitt, Duquesne, Robert Morris and the WPIAL, is sponsored by Weed Man USA Lawn Care. For more than 45 years, the team at Weed Man Lawn Care have safely and effectively cared for your lawn, so you and your family can experience it at its best. Contact them for a free online quote for any of your lawn issues. Weed Man Lawn Care will transform your lawn from a burden into a paradise.
UPDATE (9:27 PM)-
Redskins Officially Cut 34 Players https://t.co/DoF6rhLdlx #Redskins pic.twitter.com/eNPyP5fMTY

— NFLTradeRumors.co (@nfltrade_rumors) September 2, 2018
UPDATE (9:09 PM)-
I'm committed!!! UVA ALL DAY🔶🔷#PowerOfChoice pic.twitter.com/NiosRssshz

— Ja'Quay hubbard (@Jhubb3366) September 2, 2018
UPDATE (8:24 PM)-
Had a great time at the Pitt game today! Thank you @CoachTimSalem for having me up and congrats @CoachDuzzPittFB on the win. Great seeing Kenny balling out like he has all offseason. @kennypickett10 @Tonyrazz03 @PghSportsNow @MikePanther247 @RichieSRivals @ShawnB_247 @QBHitList pic.twitter.com/U02FCiGApw

— Connor Katz (@CJKQB_6) September 2, 2018
UPDATE (8:13 PM)-
**Peters Twp 2021 athlete visits Pitt today.
Fun time down at Pitt with @josh_casilli pic.twitter.com/MHmuldxCpr

— Corban Hondru (@CorbanHondru) September 1, 2018
UPDATE (12:20 PM)-
**2020 North Allegheny OT Jake Lugg received a message this morning from both Pat Narduzzi and Rob Harley. Lugg, is the younger brother of current North Allegheny OT Josh Lugg. At this point, Lugg's only offer is from Nebraska.
UPDATE (11:59 AM)-
Good luck to @Pitt_FB today. Start the season right! #H2P

— JP Holtz (@jp_holtz86) September 1, 2018
UPDATE (11:49 AM)-
The #Redskins are waiving guard TJ Clemmings, source said. Figure this'll draw some attention given the need for O-linemen.

— Ian Rapoport (@RapSheet) September 1, 2018
UPDATE (11:38 AM)-
**This morning, Pitt reaches out to 2020 3-star athlete James Davis from Belle Glade, Florida. At this point, Davis holds offers from Kentucky and Syracuse but obviously the Pitt staff is interested in him.
UPDATE (11:31 AM)-
**Blackhawk 2020 Athlete visiting Pitt today.
Pitt today 🐾🐾 @Pitt_FB @CoachDuzzPittFB @PittPanthers_1

— Marques Watson-Trent (@_MW23__) September 1, 2018
UPDATE (10:36 AM)-
**2020 Belle Vernon punter Cameron Guess, who's ranked as one of the top punters in the country, will be visiting Pitt today.
UPDATE (10:28 AM)-
Good luck to @GoPittFootball today! Special place to play. #PittInTheNFL #H2P https://t.co/5ysZ14Di06

— Nathan Peterman (@NatePeterman) September 1, 2018
UPDATE (10:21 AM)-
**Both Pat Narduzzi and Andre Powell contacted Maryland 4-star running back Blake Corum early this morning. Corum is someone that's had an offer and plenty of interest from Pitt for a long time.
UPDATE (9:58 AM)-
**Pitt coaches reached out at midnight to Ohio 4-star linebacker Jaheim Thomas. Defensive coordinator Randy Bates made the contact.
UPDATE (9:54 AM)-
Honorary Captain today: Rod Rutherford.
– All Big East QB his Junior and Senior Seaasons
– Holds Pitt Record for TD Passes and Passing Yards in a Season
– Threw 59 Career TD passes
– 2 Years in the NFL #H2P #LockTheGates pic.twitter.com/v2xH4Y6jpc

— Pat Narduzzi (@CoachDuzzPittFB) September 1, 2018
UPDATE (9:43 AM)-
**Three more juniors that Pitt coaches contacted  last night: Mars OT/TE Michael Carmody, Norwin QB Jack Salopek and 4-star wide receiver Julian Fleming (Catawissa, Pennsylvania). Pat Narduzzi and Shawn Watson messaged Salopek.
UPDATE (9:02 AM)-
Pitt game today with @1christianlewis & @cantguardjt #H2P

— ⚡️Kyi Wright‼️ (@Kyi_Dorian3) September 1, 2018
UPDATE (8:40 AM)-
Coach Houston has announced Ben DiNucci will start at QB for JMU in today's opener at NC State. pic.twitter.com/qaNlWhs9m6

— JMU Football (@JMUFootball) September 1, 2018
UPDATE (8:13 AM)-
**Last night at midnight ended the college football dead period which meant teams are permitted to have contact again with 2019 recruits as well as reach out to 2020 recruits. We'll be attempting to find out juniors that Pat Narduzzi and his staffed messaged last night and today. We already have a few players.
#H2P #LockTheGates Pit Showing Love ‼️ pic.twitter.com/9wGzwxTbgI

— Deondre Buford📈 (@DeondreBuford56) September 1, 2018