The Frank Walker Law/PSN Daily Notebook: June 4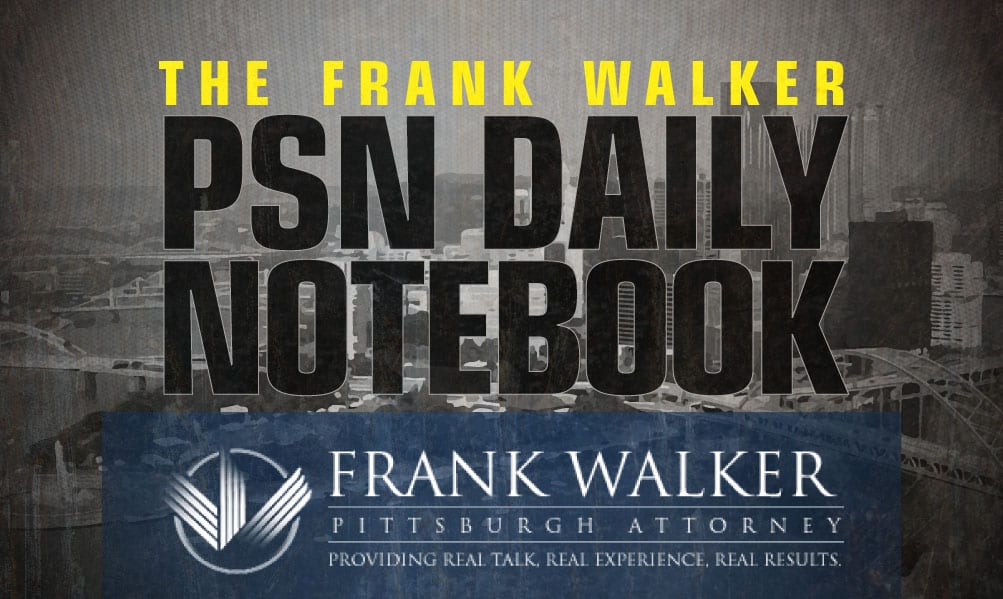 The PSN Daily Notebook is sponsored by Frank Walker, one of Pittsburgh and West Virginia's most respected criminal defense and injury lawyers. Mr. Walker has offices in Pittsburgh and Morgantown and has been named one of Top 100 National Trial Lawyers and is rated a perfect 10.0 Superb by Avvo for ethics, experience and results. To reach Mr. Walker, you can call 412-532-6805 or go to his website frankwalkerlaw.com. For real talk, real experience and real results, contact Frank Walker Law.
Update (10:10 PM)-
Florida 2022 3-star WR @MarcusPeterson_ in his @Pitt_FB official visit. https://t.co/1qOtjhhRoN

— Pittsburgh Sports Now (@PghSportsNow) June 5, 2021
Update (9:45 PM)-
📍Heinz Field pic.twitter.com/FW6XB6DmQA

— Marcus Peterson (@MarcusPeterson_) June 4, 2021
Update (2:32 PM)-
PIAA reveals 1st-round sites, times for state baseball playoffshttps://t.co/AaCIDlZ7SK

— Tribune-ReviewSports (@TribSports) June 4, 2021
Update (11:55 AM)-
I will be at Pitt's Rising Star Camp next weekend on the 13th. I AM EXCITED! 🔵🟡 @CoachTimSalem @BatesBacker @ARCHIECOLLINS22 @CoachKenBarger @StepinacSports @StepinacMSG @EYC_training @Coach_GetWright @bodhi_ogg pic.twitter.com/5JbmmlOcJf

— Joshua Narcisse (@JoshuaNarcisse5) June 4, 2021
Update (11:41 AM)- 
**Laurel Highlands 2023 4-star athlete Rodney Gallagher has scheduled unofficial visits to the Ohio State football and basketball programs. Earlier this week, Gallagher did the same with Pitt and will visit the Penn State football and basketball programs later this month.
I will be taking a unofficial visit to Ohio State on June 29th🔴⚪️⚫️@OhioStateHoops @OhioStateFB

— Rodney Gallagher 3rd (LLC💞) (@RodneyG_3rd) June 4, 2021
Update (11:21 AM)-
He wasn't just here for home cooking.

NFL Network reports that New Castle native and free agent safety Malik Hooker visited with the #Steelers on Thursday.https://t.co/NRYAVIfvIM @MalikHooker24 pic.twitter.com/tD4mYunLXa

— Steelers Now (@PghSteelersNow) June 4, 2021
Update (11:18 AM)-
I had a number of # Pitt fans ask. Hard hitting 2022 Springfield HS (Springfield, OH) safety Delian Bradley informed me he was on an unofficial visit. Posted photos yesterday in a Panther uniform. An impressive 3-star prospect. #H2P @PghSportsNow

— Harry G. Psaros (@PittGuru) June 4, 2021
Update (9:19 AM)-
That's a wrap! 🎓Congratulations, @kylefugedi Very proud of you. Next stop The University of Pittsburgh! @PittTweet @Pitt_FB @fugedi_lynne @ryleeguidashh #PatriotPride #H2P #NextChapter pic.twitter.com/7Zh4v5kgIl

— Chris Fugedi (@Chris_Topher58) June 4, 2021
Update (8:50 AM)-
PSN has learned that Utah 3-star athlete @9marcusmckenzie official visit to @Pitt_FB this weekend is now an official visit. Originally was an unofficial visit. Pitt now has 9 players on official visits. pic.twitter.com/0IYNBZnm5z

— Pittsburgh Sports Now (@PghSportsNow) June 4, 2021
UPDATE (8:14 AM)-
**Pitt continues to try and establish relationships early with elite young talent. Last evening, the Panthers staff extended an offer to DL Kaden Strayhorn from Catholic Central High School in Novi, Michigan. The noteworthy aspect to this offer is that Strayhorn (6'4″, 255) is just completing 8th grade. This isn't his first offer as he's also heard from Michigan State and Syracuse.