The Frank Walker Law/PSN Daily Notebook: September 21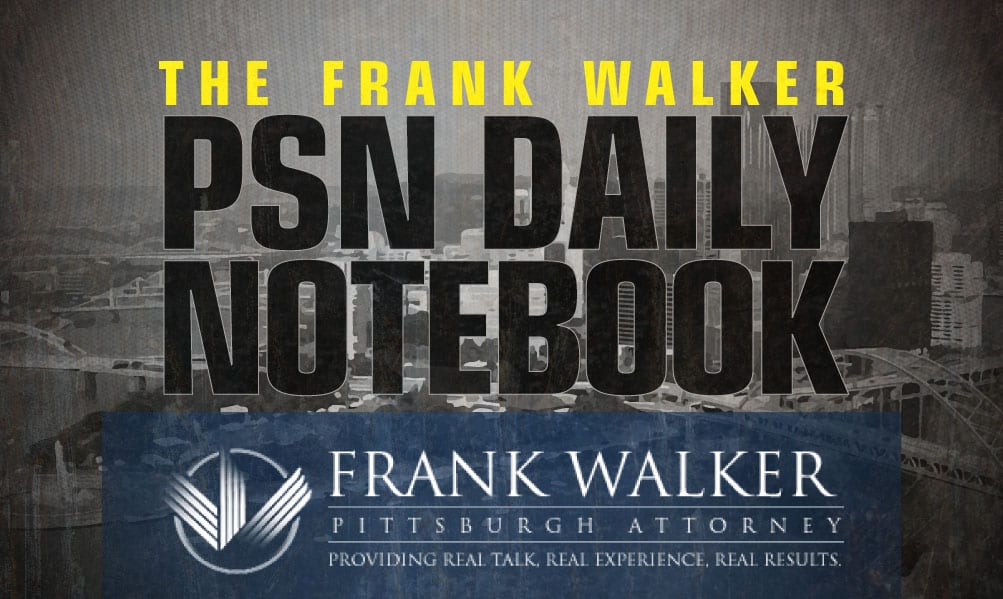 The PSN Daily Notebook is sponsored by Frank Walker, one of Pittsburgh and West Virginia's most respected criminal defense and injury lawyers. Mr. Walker has offices in Pittsburgh and Morgantown and has been named one of Top 100 National Trial Lawyers and is rated a perfect 10.0 Superb by Avvo for ethics, experience and results. To reach Mr. Walker, you can call 412-532-6805 or go to his website frankwalkerlaw.com. For real talk, real experience and real results, contact Frank Walker Law.
Update (9:05 AM)-
Another one…

Seneca Valley at Norwin football also canceled Friday.@norwinathletics @NKnightsFBall @TribLiveHSSN

— Bill Beckner (@BillBeckner) September 21, 2021

Update (8:42 PM)-
The #Ravens have signed former #Pitt OT Jaryd Jones-Smith to their practice squad.

— Alan Saunders (@ASaunders_PGH) September 21, 2021

Update (8:34 Pm)-
PG Rahmir Barno'23 @BgRah0 of @TepFamBball & @TeamFinalEYBL has earned offers from Temple, VCU, Hofstra, La Salle, Drexel, Robert Morris & Bryant as well as recent interest from Xavier, Pittsburgh & Penn State. pic.twitter.com/qrZqv9B9M7

— 𝒜𝓃𝒹𝓇ℯ𝓌 𝒮𝓁𝒶𝓉ℯ𝓇 (@Andrew__Slater) September 21, 2021
Another 23 guard that Pitt has checked out recently https://t.co/XvnjztEnq2

— George Michalowski (@MichalowskiCBB) September 21, 2021

Update (3:25 PM)-
SCHEDULE CHANGE

Friday's football game between Hempfield and Mt. Lebanon has been MOVED to Mt. Lebanon because of the new track installation at Spartans Stadium. @hasd_athletics @HempfieldAreaFB

— Westmoreland Sports Network (@WestmorelandSN) September 21, 2021

Update (3:18 PM)-
Updated @UnitedCoaches ranking ⬇️

Pitt extends its nationally ranked streak to 24-straight weeks.#H2P pic.twitter.com/Waa5qQE5lg

— Pitt Men's Soccer (@Pitt_MSOC) September 21, 2021

Update (2:47 PM)-
Eight years ago today …@AaronDonald97 tackled TWO guys at once 😳 @Pitt_FB pic.twitter.com/xgFOVTdFhi

— ACC Network (@accnetwork) September 21, 2021

Update (10:04 AM)-
Statement from head football coach Tim Lester. pic.twitter.com/YztUpLlJwm

— Western Michigan Football (@WMU_Football) September 21, 2021
Update (9:35 AM)-
**Last night, Pitt football extended an offer to 2023 offensive tackle/defensive lineman Jven Williams from Wyomissing, Pennsylvania. Williams (6'5″, 310) received the offer from Cory Sanders and this is his first D-1 offer.
https://t.co/sh3UpuqBTb@CoachSteveONeil @gobigrecruiting @SportsByBLinder @MDrago59 @PaulRobertsCuse @EdOBrienCFB @BadgleyBruce

— Jven Williams 6'5 310lbs OT (@williams_jven) September 13, 2021
Around the Network
Steelers Now: Trai Turner Possible Suspension News
Pittsburgh Hockey Now: A Goalie Prospect is Turning Heads
Pittsburgh Baseball Now: Patience, Power is Coming
WVU Sports Now: Jared Bartlett Claims BIG 12 Weekly Honors
Nittany Sports Now: PSU to Host Indiana in Prime Time Saturday
Pittsburgh Soccer Now: WPIAL Girls Soccer Scoreboard