The Frank Walker Law/PSN Daily Notebook: February 8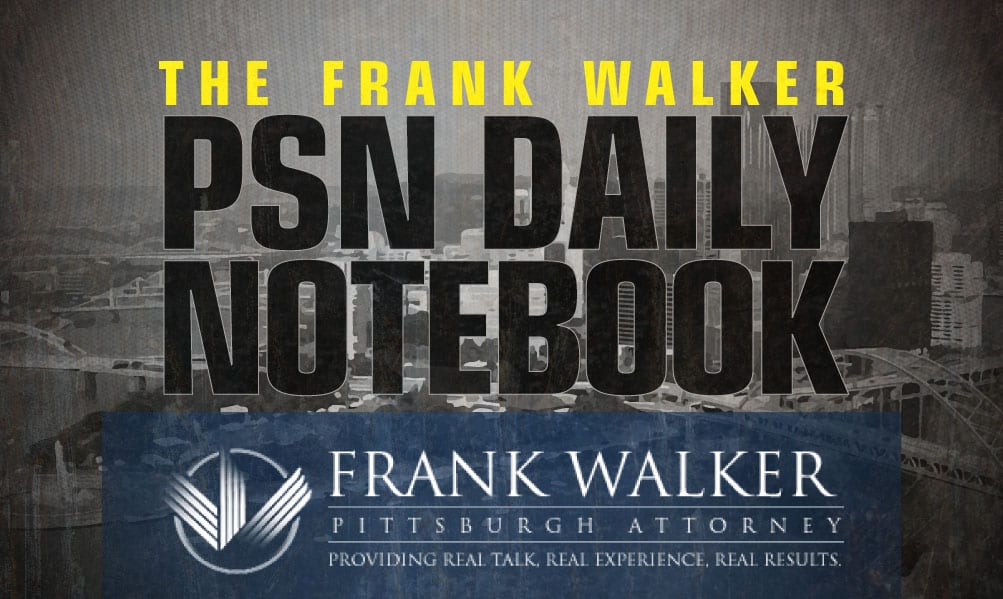 Update (5:05 PM)- 
**Akron football extends an offer to 2023 athlete Davoun Fuse from Washington High School. Fuse's first offer came from Toledo.
I am blessed to receive my 2nd D1 offer from The University of Akron @TeamsCoachTuck @BallCoachJoeMo @ZipsFB @210ths pic.twitter.com/1nh3WfsP2Z

— Davoun Fuse🦋✨ (@davoun_fuse) February 8, 2022
https://t.co/3MbzznjyGj @Cover3_ATH @MaxPreps @vkehres @CoachMakrinos @RickyCicconeUT

— Davoun Fuse🦋✨ (@davoun_fuse) November 23, 2021
Update (12:54 PM)-
Great to see @CoachDuzzPittFB in Harrisburg today where he and the @PittTweet team are making the rounds with @theACC Championship Trophy. pic.twitter.com/rkXUuYZCJ6

— Allegheny Co. Exec. (@ACE_Fitzgerald) February 8, 2022
Update (12:14 PM)-
Ron Balog tells me that he has resigned at the head football coach at Quaker Valley. Next fall, he will be the offensive coordinator at North Catholic. Balog went 9-25 in his four years with the Quakers, taking them to the playoffs in 2018. Story coming soon. @timesscores

— Noah Hiles (@_NoahHiles) February 8, 2022
Update (10:17 AM)-
Thank you @Pitt_FB for showing love. I appreciate it. I will also be attending the Spring football game on April 9th. 🐆🟡🔵 #H2P @AdamCalt @TiUnderwood @CoachAPowell @_cgallagher @EdOBrienCFB @PittPanthers247 @PantherLair @rjgood_45 @PittGuru @PittRecruiting @ryanwpatti pic.twitter.com/M45Y2Pnodn

— marqueshicks22 (@marqueshicks22) February 8, 2022
Update (8:48 AM)- 
**This morning, Pitt extends an offer to 2023 running back Montravius Lloyd from Lakewood High School in St. Petersburg, Florida. Lloyd (6'0", 205) has also received offers from Wake Forest, Coastal Carolina, South Florida, East Carolina, Florida State and West Virginia. Lloyd received the offer from Cory Sanders.
https://t.co/YND877ny8b
Junior Season ( Offense ) 5️⃣❗️

— Montravius (Trey) Lloyd (@LloydMontravius) December 8, 2021
H!M …………….. pic.twitter.com/tp27LienME

— Montravius (Trey) Lloyd (@LloydMontravius) February 1, 2022

Update (8:00 AM)-
**Over the weekend, Frank Cignetti and Pitt extended an offer to six junior quarterbacks and one of them committed to another program late Monday night. 2023 3-star Bo Edmundson, from Lake Travis High School in Austin, Texas, gave a verbal commitment to Michigan State. Lake Travis High School is the same school that Pitt freshman quarterback Nate Yarnell attended.
ACROSS THE NETWORK
Steelers Now: How did Kenny Pickett stack up against the other quarterbacks at the Senior Bowl?
WV Sports Now: Mountaineers mired in a long losing streak.
Nittany Sports Now: The Nittany Lions add a new transfer offensive lineman from Cornell.
Pittsburgh Hockey Now: Time for the Penguins to hit the stretch run.
Pittsburgh Baseball Now: Over/under 68 wins for the Pirates next year?