The Frank Walker Law/PSN Daily Notebook- January 22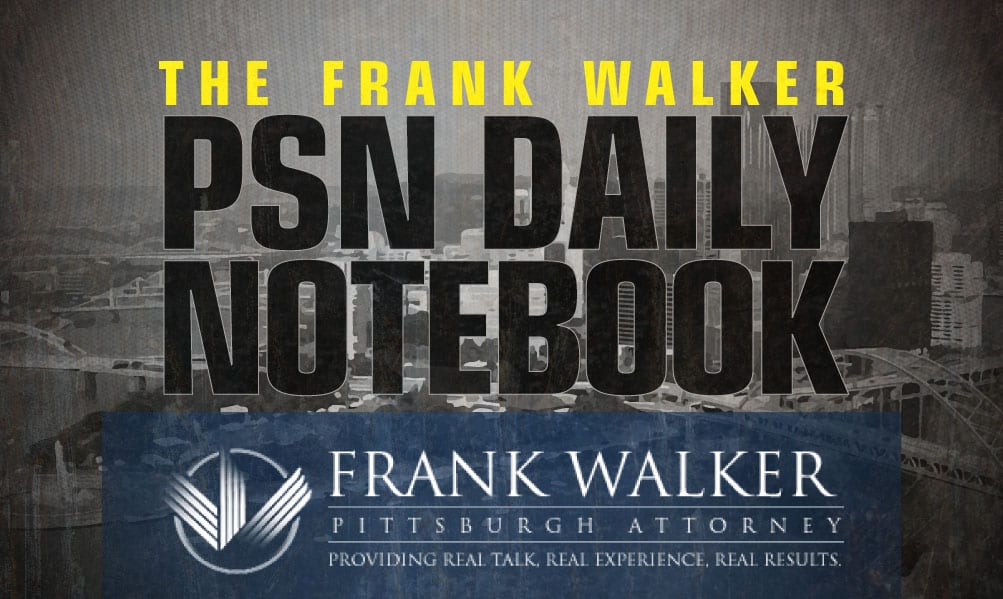 The PSN Daily Notebook is sponsored by Frank Walker, one of Pittsburgh and West Virginia's most respected criminal defense and injury lawyers. Mr. Walker has offices in Pittsburgh and Morgantown and has been named one of Top 100 National Trial Lawyers and is rated a perfect 10.0 Superb by Avvo for ethics, experience and results. To reach Mr. Walker, you can call 412-532-6805 or go to his website frankwalkerlaw.com. For real talk, real experience and real results, contact Frank Walker Law.
Update (5:35 PM)-
**Today, Pitt and Charlie Partridge extend an offer to freshman linebacker Ezekiel Marcelin, Jr. from Miami Central High School in Miami, Florida. This is Marcelin's second D-1 offer, who received his first one yesterday from Florida State.
https://t.co/U1NfRkFdTk. Freshman Season highlights.🚀

— EZEKIEL"EJ"XAVIER MARCELIN JR (@EzekielMarcelin) January 9, 2022
Update (5:13 PM)-
**A third Aliquippa Quip received a D-1 offer today, this one goes to sophomore linebacker Cameron Lindsey, who got an offer from Toledo. Lindsey also holds offers from Penn State and West Virginia.
FULL DEFENSIVE HIGHLIGHTS FROM SOPHOMORE YEAR
86 Tackles!!
22 For loss!!
2 Sacks!!
2 Fumble Recoveries!!
2 Fumbles Forced!!
2 INTS!!
2 Returned for touchdowns!!
Check out my highlight – https://t.co/UjXO49DsLu

— Cameron (@cx_lindsey) December 11, 2021
Update (4:57 PM)-
**Aliquippa 2023 defensive back/wide receiver Donovan Walker picked up an offer today from Eastern Michigan. This is Walker's second D-1 offer (Albany).
Defensive highlights ‼️ Finished the season with 80 tackles ‼️ 8 INT 3 returned for touchdowns ‼️ 13 PBU'S ‼️ 2 FF ‼️https://t.co/y6rAOAPWqx

Offensive highlights ‼️ 15 catches 203 yards ‼️ 3 TDS https://t.co/C3TUDAxpL9 pic.twitter.com/5EoCo8pZmW

— Donovan Walker (@DonovanWalkerr) December 10, 2021
Update (4:47 PM)-
**Congrats to Aliquippa sophomore Brandon Banks for receiving an offer from Eastern Michigan, which is now his first D-1 offer.
Full Sophomore Defensive highlights❗️

4 Interceptions (1 pick 6)
42 tackles
24 PBU's
4 punt Return TDShttps://t.co/OzJmxQi3Hr pic.twitter.com/hyma21N9lb

— Brandon Banks (@b_banks6) December 10, 2021
Update (12:24 PM)-
Great visit with @CoachTimSalem today! @Pitt_FB pic.twitter.com/UYZiA5t2HV

— RecruitHTFB (@RecruitHTFB) January 21, 2022

Update (10:21 AM)-
**Charlie Partridge and Pitt extend offers to two juniors from Miami- athlete Giovanni Adopte and Rayquan Adkins. For Adopte, this was his first D-1 offer, while Adkins holds an offer from Miami, Florida.
Ready to work!!! https://t.co/dkHPGuzxEq

— J A C K P O T (@GioNewera) January 18, 2022
STATS: 10INTS, 26TT, 20PBU,👀🔥 @GunterBrewer @CoachB_BROWN @Coach_Addae @Coach_MWoodson @CoachMashack @Vol_Football @CoastalFootball @FloridaGators @CoachDavidGibbs @UofLFootball @WVUfootball @oregonfootball @Coach_Chance @CoachModkins @TCUFootball https://t.co/30bRdrQqzm

— 千9乂 (@Q_ERAA) December 1, 2021
Update (10:19)-
From RMU to YSU and staying in the Horizon League https://t.co/ar27Djeuzh

— Austin Bechtold (@AustinRBechtold) January 22, 2022
Update (10:10 AM)-
#H2P 🟡🔵 https://t.co/PDanA43a7q

— Harry G. Psaros (@PittGuru) January 22, 2022